(10 am. – promoted by ek hornbeck)
Spoken Publicly and with Force of Conviction!
And not only as to those leaders who send our Military to wars of choice but also the war profiteers who reap wealth from the huge defense budgets spent and these wars!
Unlawful killing: coroner attacks army inadequacies over blast that killed four

March 9, 2010 Special forces troops were sent to Afghanistan in unsuitable vehicles and without sufficient training and bomb-detecting kit, a coroner has found at the close of the inquest into the death of the only British female soldier killed in the country.

In his narrative verdict into what he described as the unlawful killings of Corporal Sarah Bryant and three SAS reservists, David Masters highlighted widespread concern among soldiers about the limitations of Snatch Land Rovers.

He also cited a shortage of more suitable off-road vehicles and the inadequate training for detecting improvised explosive devices, the biggest killer of troops in Afghanistan. >>>>>
This comes only a few days from Gordon Browns testimony at the Brit Iraq War Inquiry, which I have a few reports posted of Here: Part One as well as Here: Part Two, doing his best rumsfeld impersonation on financing and the equipment sent into the occupation theaters with their soldiers.
Training of first woman soldier killed in Afghanistan could have been better, admits Government

Sarah Bryant with husband Carl on their wedding day in 2005. Three years later she was killed in a Snatch Land Rover

10th March 2010 The Government today admitted military training could have been better after it was attacked at the inquests of four soldiers killed in Afghanistan.

Armed Forces minister Bill Rammell conceded it was 'not as good as it should have been' after a coroner ruled the first female British soldier killed in the conflict died because of inadequate training and the wrong equipment.

The verdict led to further anger over Government funding of the Armed Forces and the families of the three other soldiers said they believed their loved ones would be alive today if it were not for the failings. >>>>>
Speaking of rumsfeld, remember the words of the Darling of the media back then, "As you know, you go to war with the Army you have. They're not the Army you might want or wish to have at a later time." adding right with that: "If you think about it, you can have all the armor in the world on a tank and a tank can be blown up." saying that directly to the soldiers in Kuwait back in December of '04!
Well it seems to have become the used when needed meme's of any involved especially as to Afghanistan and Iraq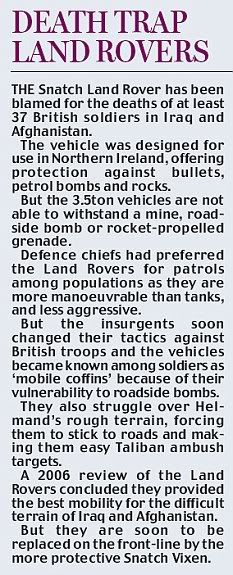 The families of the two soldiers from the same regiment killed in Afghanistan last night spoke of their devastation. >>>>>