Once again I have the helm of the good ship Weekend News Digest while our erstwhile Editor-in-Chief, ek hornbeck, is off resting and plotting revenge on NBC for its less than stellar coverage of what looked like a really exciting Winter Olympics.
While the big news story is the earthquake in Chile and the tsunami that it generated, the disaster in Haiti is now being exacerbated by the early arrival of the spring rainy season. The Haitian people and those trying to aid them cannot catch a break. The world cannot lose sight of this continued catastrophe.
Deadly Floods Swamp Haiti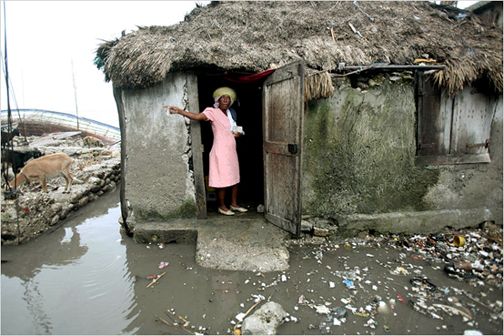 The traditional rainy season has come early to Haiti, bringing with it floods that have killed 11 people in the south-eastern port city of Les Cayes and the surrounding area. The city had not been affected by the devastating January 12th earthquake – which killed 230,000 and left a million people homeless – but its population had swelled recently as survivors moved in from the earthquake-hit areas.
Rain triggers deadly floods in Haiti
The deaths occurred in or near the southeastern port city of Les Cayes which was swamped by more than 1.5m (5ft) of water.

Officials said buildings affected included a hospital and a prison where more than 400 inmates were evacuated.

About a million Haitians are still homeless following January's earthquake which killed up to 230,000 people.

The floods have come several weeks ahead of Haiti's traditional rainy season.

"The situation is grave… whole areas are completely flooded. People have climbed on to the roofs of their homes," local senator Francky Exius told AFP news agency.
Link contains video from the BBC.
A heads up to everyone, some of the links contain videos. I'll put a warning on those links. This is an Open Thread
Top News
1. Chile counts cost of earthquake as tsunami fears ease
Chile has begun to count the cost of its deadly 8.8 magnitude earthquake as nations around the Pacific eased their fears of a devastating tsunami.

The quake, on Saturday morning, killed at least 300 people – 90% of them in their homes. It is feared the damage may cost tens of billions of dollars.

One major rescue effort is in the city of Concepcion, where dozens are feared trapped in a collapsed apartment block.

The Pacific-wide alert for a tsunami in the wake of the quake has been lifted.

Chilean President Michelle Bachelet said that two million people had been affected by the earthquake.

The 8.8 quake is one of the biggest ever recorded and the largest to hit Chile in 50 years.
Link contains video from the BBC
2. Deadly storms lash Spain, Portugal and France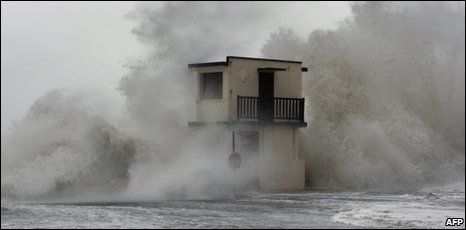 At least 16 people have been killed in storms that have lashed parts of Spain, Portugal and France.

Winds of up to 140km/h (87mph) caused chaos as they moved from Portugal up through the Bay of Biscay.

Twelve people have died in France and three in Spain as well as a 10-year-old boy in Portugal.

The storm is expected to track north-eastwards during the course of Sunday, reaching Denmark by the evening, French meteorological authorities said.
3. Rescuers struggle to save lives after Chile quake
CONCEPCION, Chile – Rescuers edged their way toward quake victims trapped in a toppled apartment block early Sunday even as looters stole food and robbed banks after one of the strongest earthquakes ever recorded struck Chile.

Authorities put the death toll from Saturday's magnitude-8.8 quake at about 300, but believed the number would grow. They said 1.5 million Chileans were affected and 500,000 homes severely damaged by the mammoth temblor.
Link contains video
4. warning lifted; Waves reach Japan, Russia
TOKYO – The tsunami from Chile's devastating earthquake hit Japan's main islands and the shores of Russia on Sunday, but the smaller-than-expected waves prompted the lifting of a Pacific-wide alert. Hawaii and other Pacific islands were also spared.
5. Chile was ready for quake, Haiti wasn't
PORT-AU-PRINCE, Haiti – The earthquake in Chile was far stronger than the one that struck Haiti last month – yet the death toll in this Caribbean nation is magnitudes higher.

The reasons are simple.

Chile is wealthier and infinitely better prepared, with strict building codes, robust emergency response and a long history of handling seismic catastrophes. No living Haitian had experienced a quake at home when the Jan. 12 disaster crumbled their poorly constructed buildings.

And Chile was relatively lucky this time.

Saturday's quake was centered offshore an estimated 21 miles (34 kilometers) underground in a relatively unpopulated area while Haiti's tectonic mayhem struck closer to the surface – about 8 miles (13 kilometers) – and right on the edge of Port-au-Prince, factors that increased its destructiveness.
6. Dubai: Hamas operative drugged, suffocated
DUBAI, United Arab Emirates – Dubai police said Sunday forensic tests show a Hamas operative who was killed in his hotel room by an alleged Israeli hit squad was drugged with a fast-acting muscle relaxant and then suffocated with a pillow.

The drug, called succinylcholine, is frequently used by doctors to administer a breathing tube or anesthesia. Dubai police said tests discovered the drug in the bloodstream of Mahmoud al-Mabhouh, the Hamas commander whose body was found in his room at a luxury Dubai hotel on Jan. 20.
Paralyzed him but he was still conscious and well aware of what was happening. Bastards
7. Chile quake seen giving a boost to copper prices
SINGAPORE/CAIRO (Reuters) – Copper is likely to climb when trading starts on Monday, lifted by uncertainty over supply after the world's top copper producer Chile was pounded by a massive earthquake, analysts said on Sunday.

The earthquake, one of the world's most powerful in a century, battered Chile, killing more than 300 people as it toppled buildings and triggered tsunami waves hitting Pacific coastlines as far as Japan and Russian far east.
Lets make a buck off death and destruction. The Shock Doctrine in play.
8. Violence flares at Jerusalem holy site
ERUSALEM (Reuters) – Israeli police entered the compound housing al-Aqsa Mosque in Jerusalem on Sunday after Palestinians threw stones at visitors to the holy site, and fired tear gas and rubber bullets to break up protests.

The confrontation added to tension that is already running high after Israel's announcement of a plan to restore Jewish religious sites in the West Bank in a heritage project.
Link contains a slide show of pictures.
9. Niger: Once-taboo topic of hunger spoken again
NIAMEY, Niger – They are simple words humanitarian workers in Africa use often but dared not speak in this impoverished nation: hunger, starvation.

And definitely not famine.

For years, President Mamadou Tandja denied there was any food crisis in Niger, even when images were broadcast of skeletal children too weak to brush away flies. Now that the military has ousted Tandja, aid agencies are speaking out, with good reason: The country is facing its worst food shortage in years.
Let's not say the words so the problem will go away. Silence Kills. Shout Louder.
US News
10. Thousands still lack power after Northeast storm
CONCORD, N.H. – Frustration turned to resignation Saturday for hundreds of thousands of people in the Northeast struggling to survive another day waiting for utility crews to restore electricity after powerful storms socked the region with heavy snow, rain and hurricane-force winds.

The region was left to deal with the fallout of gusting winds that created near-blizzard conditions this week in what was the third strong storm this month for some areas. Parts of New York got more than 2 feet of snow while some areas of coastal New England were drenched with flooding rains.

One man was killed by a falling snow-laden tree branch in Central Park in New York City, and two people in Candia, N.H., died in a house fire caused by improperly using a propane heater to stay warm, fire officials said.

The highest wind reported from the storm was 91 mph off the coast of Portsmouth, N.H. – well above hurricane force of 74 mph. Gusts also hit 60 mph or more from the mountains of West Virginia to New York's Long Island and Massachusetts.
11. All Southern Calif. evacuation orders lifted
LOS ANGELES – All evacuation orders have been lifted and flash flood warnings canceled in wildfire-stripped sections of Los Angeles County as a winter storm passed through without major incident.

The Sheriff's Department said that the last of 178 homes evacuated for fear of possible mudslides in Tujunga, La Canada Flintridge and La Crescenta were called off shortly after sundown Saturday night.
12. Hawaii dodges tsunami after Chile quake
HONOLULU (Reuters) – Hawaii dodged serious damage on Saturday when a tsunami triggered by a powerful earthquake in Chile merely lapped ashore, although residents were warned to stay away from coastal areas because the ocean could remain unsettled for several more hours.

The Pacific Tsunami Warning Center said it lifted its warning for the U.S. state, but added that coastal areas could still experience sea level changes or strong currents for several more hours.
13. Enron's Jeff Skilling takes fight to Supreme Court
HOUSTON (Reuters) – Former Enron chief executive Jeff Skilling lost the first half of the fight of his life when a jury convicted him nearly four years ago for committing fraud while at the helm of the once high-flying energy trader.

On Monday before the U.S. Supreme Court, lawyers for federal prisoner 29296-179 will take their last shot at shredding a lower court's conviction that sentenced him to 24 years in jail. If Skilling succeeds, his sentence could be shortened or he could win a new trial.
14. U.S. to test Lexus model cited in Toyota hearings
WASHINGTON (Reuters) – U.S. regulators have purchased and will test the Lexus ES 350 once owned by a Tennessee woman whose testimony this week in Congress personalized allegations of unintended acceleration in Toyota Motor Corp vehicles.

The Transportation Department said on Friday the National Highway Traffic Safety Administration would conduct the evaluation at its research center in Ohio, but seek outside expertise, if necessary.
15. U.S. missionaries to stay in Haiti jail over weekend
PORT-AU-PRINCE (Reuters) – Two U.S. missionaries will remain in jail in Haiti through at least Tuesday, while a judge takes testimony that is expected to clear them of child kidnapping charges, the judge hearing the case said on Friday.

Investigative judge Bernard Sainvil said that before freeing Laura Silsby and Charisa Coulter he wanted witnesses that he had already examined in the Dominican Republic to give their testimony in Haiti.
16. Experts seek more oversight of medical radiation
CHICAGO (Reuters) – The U.S. government needs to establish national guidelines for controlling the amount of radiation a patient gets from diagnostic exams and treatments and the level of training required by a medical technician who delivers it, experts told a congressional panel on Friday.

Radiation exposure from medical scans and treatments became a major concern for patients and lawmakers last fall after patients at hospitals in Los Angeles and Philadelphia were exposed to toxic levels of radiation>
17. Desperate California to get more water at last
LOS ANGELES (Reuters) – Drought-stricken farmers and cities across California were granted a measure of relief on Friday when federal and state officials said they expected to supply significantly more water this year than last.

The announcements came as welcome news in the nation's No. 1 farm state, where dramatic cutbacks in water deliveries by the U.S. Bureau of Reclamation and the state Water Resources Department had idled thousands of farm workers and 300,000 acres of cropland.
18. SeaWorld to keep whale that killed trainer
MIAMI (Reuters) – The orca that killed its trainer at the Florida SeaWorld will continue to perform but no one will be allowed in the water with him or any of the company's other killer whales until an investigation is finished, SeaWorld's chief executive said on Friday.

Trainer Dawn Brancheau was on a platform at the side of the pool, rubbing the 12,000-pound (5,400-kg) killer whale after a performance on Wednesday when the animal grabbed her ponytail in his mouth, SeaWorld Parks & Entertainment Chief Executive Jim Atchison told a news conference at the park.
19. U.S. indicts Colombian drug kingpins' relatives
MIAMI (Reuters) – Authorities indicted six associates of Colombia's Cali drug cartel on Thursday on charges they failed to disclose the assets of two jailed kingpins as set out in a sentencing agreement.

The Department of Justice said the defendants were charged with conspiring to impede an investigation into assets owned by brothers Miguel and Gilberto Rodriguez Orejuela, sentenced in Miami in 2006 to 30 years in prison on trafficking charges.
20. Visitor center opens at NY's African Burial Ground
NEW YORK – About 15,000 African slaves and their descendants were once unceremoniously buried under what is today Manhattan – and forgotten.

On Saturday, a new visitor center opened near the rediscovered cemetery from the 17th and 18th centuries to celebrate the ethnic Africans who had toiled, many unpaid, to help make New York the nation's commercial capital.

"It's shocking – the number of people today who are still unaware that this history exists in New York," said Tara Morrison, superintendent of the African Burial Ground National Memorial.
World News
21. Blast kills 11 civilians in southern Afghanistan
KANDAHAR, Afghanistan (Reuters) – An explosive device planted by Taliban militants killed 11 civilians on Sunday in Afghanistan's most violent province, a government official said.

The blast happened on a road in the Nawzad district of Helmand Province. The province is the focus of one of the largest NATO offensives in the eight-year-old war against the Islamist Taliban.
22. New U.N. watchdog head faces rising tension with Iran
VIENNA (Reuters) – The U.N. atomic watchdog's new chief will present a tougher approach to Iran at a meeting of member states starting on Monday where clashes loom over his suggestion Tehran may be trying to design a nuclear weapon.

Iran was likely to argue Yukiya Amano lacks competence and independence from Western powers, who want to impose harsher sanctions on Tehran, as tensions grow over its escalation of nuclear fuel enrichment and suspicions of illicit bomb research.
ADEN (Reuters) – Separatists demonstrated in southern Yemen on Sunday after security forces arrested 21 people accused of rioting, residents and officials said.

People traveling to Aden said demonstrations continued for a second day in the main southern city and in the provinces of Abyan and Dalea, also in the south of the poorest Arab country.
24. Arms and energy on agenda for Medvedev in Paris
MOSCOW (Reuters) – Talks on buying a French-made helicopter carrier, energy tie-ups and Iran will be amongst the priorities when President Dmitry Medvedev travels to France for a three-day state visit on Monday, a Kremlin official said.

Medvedev will be hosted at the Elysee Palace by his French counterpart Nikolas Sarkozy, one of the most vocal Western advocates of tough sanctions against Iran over its nuclear program. Moscow has so far been less enthusiastic.
25. Turkish PM holds talks with armed forces head: report
ISTANBUL (Reuters) – Turkey's prime minister met the head of the armed forces on Sunday, two days after the arrest of two retired generals over an alleged coup plot risked renewing tension between the government and the military.

CNN Turk said both men attended a funeral and Prime Minister Tayyip Erdogan invited General Ilker Basbug to his office for unscheduled talks.
26. India tests war readiness close to Pakistan border
POKHRAN, India (Reuters) – Indian fighter jets pounded mock enemy bunkers close to the Pakistan border on Sunday in a symbolic show of air power at a time when the two nuclear-armed rivals are trying to improve relations.

The exercise was watched by military attaches from about 30 countries but not Pakistan and China, neighbors who would be keen to take a look at India's military firepower.
27. Spain says ETA rebels' top leader caught in France
MADRID (Reuters) – The leader of armed Basque separatists ETA was caught on Sunday in northern France, the Spanish Interior Ministry said, in what was the latest blow to a group weakened by hundreds of arrests. Ibon Gogeascoechea, on the run since 1997, was caught along with two other senior ETA rebels in a joint Spanish-French raid near the small town of Cahan in Normandy, the ministry said.

He was wanted for a plot to attack the Guggenheim Museum in Bilbao during a visit by Spain's King Juan Carlos.
Political News
28. Obama, Democrats renew push for healthcare
WASHINGTON (Reuters) – President Barack Obama and his fellow Democrats appeared headed toward passing long-sought healthcare legislation in Congress in the next month or so, confident they could do it without any Republican support.

Senate Republican Leader Mitch McConnell said on Sunday he expected that no Republicans would vote for the measure, and Democratic Senator Robert Menendez voiced confidence that his party would provide the needed support.
29. Obama has first medical checkup of presidency
WASHINGTON (Reuters) – President Barack Obama underwent a routine medical checkup on Sunday, his first since taking office more than a year ago.

Arriving back from the National Naval Medical Center in Bethesda, Maryland, Obama was asked by a reporter how the exam had gone. He replied it was "really good" and gave the thumbs up.
30. Democrat sees votes for healthcare in House
WASHINGTON (Reuters) – Democrats in the House of Representatives will have enough votes to pass President Barack Obama's healthcare reform legislation, a member of the Democratic leadership said on Sunday.

"When we start counting, the votes will be there," Representative Debbie Wasserman-Schultz told NBC's "Meet the Press."
31. Financial reform compromise rebuffed in Senate
WASHINGTON (Reuters) – Marathon negotiations in the Senate on financial regulatory reform were set to continue on Sunday with a renewed focus on financial consumer protections after key Republicans rejected a compromise offer from the banking committee chairman.

Sources told Reuters Saturday night that neither Democrats nor Republicans had embraced an offer made on Friday by Democratic Senator Christopher Dodd to scale back President Barack Obama's proposed Consumer Financial Protection Agency (CFPA).
32. Senators seen ditching cap and trade in new bill
WASHINGTON (Reuters) – Three senators are seeking to radically overhaul stalled climate legislation by proposing to dump broad cap-and-trade provisions and take a sector by sector approach to cutting greenhouse gas emissions, a White House official and leading U.S. newspaper reported.

Despite strong doubts a climate bill is possible in this election year, Senator John Kerry, a 2004 Democratic presidential nominee, vowed last week to press ahead with a compromise climate bill that he said would win broad support.
33. Clinton faces Latin America test on Iran
WASHINGTON (Reuters) – Secretary of State Hillary Clinton flies to Latin America on Sunday, working to buff a lackluster U.S. image in a region where Brazil is emerging as a regional power with global aspirations.

The trip, featuring Clinton's first stops in South America as secretary of state, includes a visit to Chile on Tuesday, although officials said they were assessing the situation after Saturday's 8.8 magnitude earthquake rocked the country.
34. Ethics panel clears 7 House members on earmarks
WASHINGTON (Reuters) – The House ethics committee on Friday cleared seven lawmakers of improperly or illegally considering campaign contributions when steering earmarks amounting to hundreds of millions of dollars in mostly no-bid contracts to some 40 companies.

In a 305-page report, the House Committee on Standards of Official Conduct said its nine-month investigation revealed a widespread perception among corporations and lobbyists that campaign contributions provided enhanced access to lawmakers or a greater chance of getting earmarks.
35. U.S. lawmakers get details of Pakistan aid plan
WASHINGTON (Reuters) – The Obama administration sent lawmakers this week a plan for $1.45 billion in aid for Pakistan this year, funding water, energy and other projects as well as a media campaign to counter extremist views.

The 2010 spending plan, obtained by Reuters, was sent to lawmakers late on Thursday as part of the U.S. administration's obligation to consult Congress over the civilian aid package.
36. Congress panel cites evidence of Toyota concealment
LOS ANGELES (Reuters) – A U.S. congressional panel has found evidence Toyota routinely withheld company records it should have turned over in court and settled personal injury cases to avoid revealing key engineering data dubbed the "Books of Knowledge," the panel's chairman said on Friday.

A paper trail of Toyota's alleged misconduct in defending itself against personal injury suits was revealed in documents subpoenaed from a former in-house Toyota lawyer, said Edolphus Towns, chairman of the U.S. House of Representatives Committee on Oversight and Government Reform.
Now if they has investigated the bush criminals the same way.
37. Clinton heading to Latin America after Chile quake
WASHINGTON – Secretary of State Hillary Rodham Clinton's weeklong, five-nation tour of Latin America is certain to focus on the earthquake in Chile while she also tries to build support for fresh penalties against Iran.

The schedule released before the quake Saturday included a visit to Santiago, Chile's capital, beginning Monday night. Aftershocks have rattled Chile and authorities were assessing damage, raising the possibility of changes to her itinerary.
38. Pelosi says GOP has hijacked 'tea party' movement
WASHINGTON – House Speaker Nancy Pelosi is questioning whether the conservative "tea party" coalition truly represents a grass-roots movement.

In a broadcast interview, Pelosi calls tea party voters the "astroturf" movement. She says many of those voters have good intentions but that the Republican Party has hijacked the movement for its gain.
39. Paul burned by Tea Party blowback
Rep. Ron Paul, the libertarian-oriented Republican whose 2008 presidential run provided kindling for the Tea Party movement, suddenly finds himself dealing with the blowback: a handful of Tea Party-inspired candidates are seeking to dislodge him in Tuesday's Texas Republican primary.

It's an unusual turn of events for a veteran congressman who has reached stardom in conservative populist circles and who just last week emerged as the victor of the presidential straw poll at the Conservative Political Action Conference.
40. Brown keeps Calif. Democrats guessing on gov. run
SACRAMENTO, Calif. – With less than two weeks before he must enter the race for governor, state Attorney General Jerry Brown told college-age Democrats on Saturday to stay tuned for news about his presumed bid.

Brown, 71, has been acting rather coy for more than year about his plans, but he gave his first extensive comments about how he would run California since becoming the Democrats' presumed nominee.

"I've done pretty well not doing anything," Brown told a gathering of California Young Democrats when asked if he was running for governor. "We used to have a lot of people running for the Democratic nomination. They're not there anymore, right?"
41. [NY governor withdraws from election bid
NEW YORK (Reuters) – New York Governor David Paterson on Friday abandoned his campaign to seek a new term in November, battered by questions of impropriety and growing pressure to quit the race.

"I am being realistic about politics," the Democratic governor, under fire over his intervention in a domestic violence case involving one of his top aides, told a hastily called news conference to announce his withdrawal.
Finally he wakes up to the fact he is unelectable.
Human Interest
42. Young Haitian lost leg to save his sister's life
PORT-AU-PRINCE, Haiti – It's just after 6 a.m., and Petersen Hilan is waking from a dream where he was rollerblading and playing soccer. The morning sun jolts him back to reality – he no longer has a right leg.

The high school senior looks up at the tangerine light streaming through the canvas tent. Mornings remind him of the feeling just before his leg was amputated three weeks ago.

"The serum went in my arm and all I thought was that death probably feels just as sweet," Hilan says.
43. After the Chile Quake: Unease, and Wedding Bells, in Santiago
It is a bright, summery Saturday morning in Santiago, and at the Catedral Metropolitana de Santiago, the groom is becoming nervous. Less than 12 hours beforehand, the strongest earthquake in a generation rocked the Chilean capital, and all morning local radio stations have carried news that although the city's modern structures had emerged largely unscathed from the tremor, Santiago's sacred spaces had not fared as well. A few blocks away, the bell tower at Divina Providencia, a community church, had collapsed. But in the Plaza de Armas, the 18th century Catedral Metropolitana has fared much better. A few fresh pockmarks left a dandruff-like ring of debris around the base, but after what seemed like hours, the police deemed the structure safe. The groom ducked inside as the limousine pulled up, and the bride moved like a brilliant white swan through the square. Her father waited in front of the police tape that lay crumpled near the entrance. He took her hand. Together, they stepped over the confetti of police tape and rubble, down the aisle.
Entertainment
44. Scorsese's "Shutter Island" top film at box office
LOS ANGELES (Reuters) – Martin Scorsese's suspense thriller, "Shutter Island," led the North American box office for a second consecutive weekend on Sunday, fending off strong debuts from the comedy "Cop Out" and horror remake "The Crazies."

"Shutter Island" earned $22.2 million during the three days beginning Friday, taking its 10-day haul to $75.1 million, distributor Paramount Pictures said.
45. Marie Osmond's son kills self in jump from building
LOS ANGELES (Reuters) – The teenage son of famed Osmond family singer Marie Osmond committed suicide by jumping from a building in downtown Los Angeles, her representative confirmed on Saturday.

Michael Blosil, 18, leapt from his apartment around 9 p.m. (12 a.m. EST) Friday after leaving a note saying he intended to kill himself due to a long battle with depression that made him feel as if he had no friends, celebrity news television program "Entertainment Tonight" reported.
Blessed Be. Deepest condolences to Ms. Osmond and her family.
46. "A Prophet" triumphs at French film awards
PARIS (Reuters) – Jacques Audiard's powerful prison drama "Un Prophete" (A Prophet) swept the board at the "Cesar" awards on Saturday, picking up the best film, best actor and best director prizes at France's annual version of the Oscars.

"A Prophet," one of the outstanding films at last year's Cannes film festival, was named as best foreign film at the BAFTA awards last week and is in the running in the same category at the Academy Awards on March 7.
47. Woody Harrelson is a changed man after Oscar role
LOS ANGELES (Reuters) – Environmental activist, hemp promoter, peacenik, surfer dude. Woody Harrelson has been called a lot of things, but until recently it is unlikely he has been called a friend of the U.S. military.

The actor says he is a changed man, however, after working on his movie "The Messenger," in which he portrays an officer in the army's casualty notification service — officers who tell families their loved ones have died serving their country.
48. "Precious" sweeps Image Awards, Wyclef Jean honored
LOS ANGELES (Reuters) – Independent movie "Precious: Based on the novel 'Push' by Sapphire" swept the Image Awards on Friday, picking up six trophies including best movie and best actress for its star, newcomer Gabourey Sidibe.

The harrowing tale of an abused, obese Harlem teen also brought an NAACP Image award for actress Mo'Nique, whose performance as a manipulative mother is the leading favorite for a best supporting actress Oscar in March.
49. Matt Damon says waiting on Kennedy film script
EW YORK (Reuters) – Matt Damon has portrayed many people on film, from a math whiz to a murderer, but whether he plays Robert F. Kennedy in a new movie remains an open question despite his confidence it will happen, he said on Friday.

Earlier this week, celebrity websites trumpeted headlines that Damon would soon portray the slain U.S. presidential candidate and member of the Kennedy clan, but had yet to see a screenplay. Friday, the actor confirmed those accounts.
59. Jazz star Herbie Hancock goes global with album
LOS ANGELES (Reuters) – Jazz icon Herbie Hancock has rounded up another all-star cast for the multimedia follow-up to his Grammy-winning tribute to Joni Mitchell.

"The Imagine Project" aims to unite "a myriad of cultures through song and positive creative expression," according to a statement. Collaborators include pop singer Pink, guitarist Jeff Beck, sitarist Anoushka Shankar, Irish folk group the Chieftains and Colombian rocker Juanes.
51. Bon Jovi's new tour doubles as a research mission
SEATTLE – Jon Bon Jovi's new tour is bringing the veteran rock star to venues he doesn't usually visit on the road.

A shelter for hardcore alcoholics in Seattle. A tour of Skid Row in Los Angeles. Perhaps a squatters village in Sacramento.

That's because this tour in support of Bon Jovi's latest release, "The Circle," is also a fact-finding mission. The singer plans on visiting as many homeless shelters and programs as time allows in hopes of getting ideas and inspiration to shape his own work with the Jon Bon Jovi Soul Foundation, a Philadelphia-based charity that fights homelessness by building affordable housing, establishing community kitchens and cleaning up vacant lots in blighted neighborhoods.
Sports News
52. US sets medals record, Canada ties gold record
,/CENTER>
VANCOUVER, British Columbia – While the Vancouver Olympics aren't finished, the medal races are – and in spectacular fashion for North Americans.

The United States is guaranteed 37 medals and Canada will finish with at least 13 gold medals. Both are the best of these games and part of the greatest hauls ever at a Winter Olympics.

The Americans will leave with the most medals by any country at any Winter Games. They also will win the medal count for only the second time, the other being at Lake Placid in 1932.
PORT ST. LUCIE, Fla. – Mets shortstop Jose Reyes said Sunday he met with federal investigators last week regarding a Canadian doctor accused of selling an unapproved drug.

Dr. Anthony Galea is facing four charges in his country related to the unapproved drug known as Actovegin, which is extracted from calf's blood and used for healing. His assistant also has been charged in the U.S. for having HGH and another drug while crossing the border in September.
SINGAPORE – Ai Miyazato won the HSBC Champions on Sunday to become the first LPGA Tour player in 44 years to sweep the first two events of a season, closing with 3-under 69 for a two-stroke victory over Cristie Kerr.

Miyazato, the 24-year-old Japanese star who won the LPGA Thailand last week, took the lead with a birdie on the par-4 16th – a hole she played in 5 under for the week – and parred the final two holes to finish at 10 under on Tanah Merah's Garden Course.
Wayne Rooney came off the substitutes' bench to head his 28th goal of the season and retain the Carling Cup for Manchester United.

The England striker, who has been in prolific goalscoring form of late, met Antonio Valencia's 74th-minute cross with a superb looping header which dipped beyond Brad Friedel and under the crossbar for the winner.
PORT ST. LUCIE, Fla. – The top of the New York Mets' rotation is in good hands again, with Johan Santana looking healthy this spring after season-ending elbow surgery last year.

After Santana, well, there's a lot of ifs, maybes and question marks.

Mike Pelfrey regressed last year after a promising 2008 season. John Maine has struggled to stay on the field. Oliver Perez was so disappointing last season he was sent to the bullpen for a stretch. The top candidate for the final spot in the rotation is coming off surgery to repair a torn right hamstring.

And the consensus is this group could be the biggest key to New York's season
VANCOUVER (Reuters) – Olympic champion Evan Lysacek will not defend his world title in Turin next month, U.S. Figure Skating said on Saturday.

The American toppled favorite Yevgeny Plushenko to win the men's title at the Vancouver Games last week and has opted to end his season in Canada but said he was not quitting the sport.
MADRID (AFP) – Spain coach Vicente Del Bosque on Friday announced a strong squad for their friendly international against France at the Stade de France in Paris next Wednesday.

England exiles Cesc Fabregas of Arsenal and Liverpool pair Jose Reina and Fernando Torres are in the squad of 23 along with Real Madrid stars Sergio Ramos and Xabi Alonso and Barcelona's Xavi and Andres Iniesta.

Villarreal's Brazil-born defensive midfielder Marcos Senna returns after missing the European champions' last three matches, largely due to injury.
DUBAI (Reuters) – World number two Novak Djokovic overcame a racket-smashing tantrum and a day-long rain delay to retain his Dubai Championships crown by beating Russia's Mikhail Youzhny 7-5 5-7 6-3 on Sunday.

"It's a very mental game," said the Serb. "People don't realize how much tension you have to go through throughout the match. It took a lot of energy for me. Stopping and playing, and coming back and then again stopping the match last night because of the rain."
BEIJING (Reuters) – China has condemned as "extremely regrettable" a decision by the International Gymnastics Federation (FIG) to cancel Dong Fangxiao's results at the 2000 Sydney Olympics over allegations that she falsified her age.

The FIG said on Saturday they had concluded that Dong was younger than the minimum required age of 16 at the Games and have recommended the International Olympic Committee (IOC) withdraw China's team bronze medal.