(6 pm. – promoted by ek hornbeck)
Every Tuesday morning, I drive my daughter all the way to school, instead of just to the bus stop, for Band Sectionals at the ungodly hour of 6:30a.m. So I have a good sit in the car. On the return trip, I am all alone and get to choose the station! I listen to my local hippie station which has, in that weekly time slot, a Pacifica show called "People of the Earth". Very cool. They talk about various native and indigenous peoples and related issues. Like this one:
With numerous errands to do yesterday and today, I've been driving and listening more than usual. Its their pledge drive now. "CALL! and let us know you're there." I really want to contribute to this station, maybe I make it another birthday present to myself (this could go on all month, if I had $).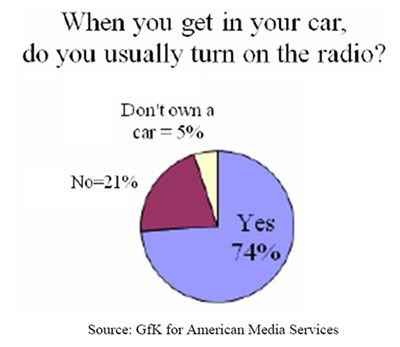 So. What stations do you like and listen to? Links welcome!
And now I gotta run back out again. Back. Crunched for time today, but will try to add more about some of this stuff if I can. This is just tip of the iceberg of stories they broadcast about on that Tuesday show.
An uncontacted tribe of about 60 people has been confirmed by FUNAI (Brazil's Indigenous Affairs Department) in the Indigenous Territory of Arariboia, located in the eastern Amazonian state, Maranhao. FUNAI believes that the uncontacted natives belong to the Awá tribe, one of Brazil's last remaining nomadic hunter-gathering tribes. Although apart of a protected reserve, the Awa are threatened by intrusion on their lands.
In Rondonia, Brazil, Surui use ACT-provided laptops to monitor their reserve

using Google Earth technology. Photo © Fernando Bizerra Jr.
Very worthwhile radio.
I gotta run back out so I'll listen some more now, and think about joining. For all my blab about my contempt for MSM, I really feel like I need to put some money where my mouth is. Oh, wait…. that should be here too. 🙂
Top 10 Reasons to give:

*

10. Your support of KPFT tells us you're listening to Pacifica Radio because, quite simply, you value what you're hearing.

*

9. To do your part to make sure thoughtful, entertaining, non-commercial programming continues to have a place on your listener supported radio station.

*

8. Because of the challenges of rising program production costs, technology and uncertain federal funding; we depend on individual contributions more than any other source of funding. Member support now totals almost 90 percent of our annual funding.

*

7. Your contribution does make a difference – generous individuals like you give us the financial and moral sustenance we need to carry on.

*

6. The great benefits of KPFT membership, including:

o

A Member Card, good for discounts at local stores, restaurants, museums and cultural events.

o

Invitations to special station events.

o

You can benefit directly from the intelligent, entertaining programs you'll help bring to our community and into your own living room.

*

5. Public radio is leading the way in digital technology for the radio industry. As we move into the age of Digital Broadcasting, we want to maintain and expand our offerings. For this, we depend on your support.

*

4. Democracy Now!, Local News, Progressive Public Affairs Programs, Alternative Lifestyle Issues, Artists Live in the Studio, Local and World Music.

*

3. Your financial support makes it possible for us to sustain and expand our ongoing schedule of broadcasting favorites. Listeners are what make public radio possible. Great entertainment and public affairs programming, non-commercial programming — these are community resources that you can help make possible.

*

2. The "public" in public radio means that community support is our lifeline. Your financial support is essential so we can remain a haven of smart, thought-provoking radio.

*

1. The good feeling knowing, as you listen to your favorite programs on KPFT, that you've helped to keep them there.