(10 am. – promoted by ek hornbeck)
From MSF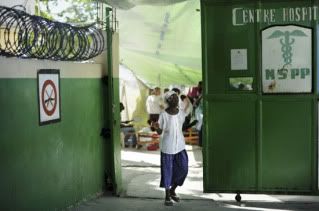 Haiti: Treatment Continues Through Powerful Aftershock
On Wednesday morning, as Doctors Without Borders/Médecins Sans Frontières (MSF) teams in Haiti continued to work through long queues of patients waiting for treatment and surgery, the country was shaken anew by a powerful aftershock. In Choscal hospital, where MSF has been running two operating theaters, patients were so alarmed by the tremors that they had to be relocated into tents outside the building. The surgeons stayed in the hospital, however, rotating in regular shifts, performing one operation after another.

In the week since the January 12 earthquake, MSF has established 10 operating theaters in the battered country. Seven are in Port-au-Prince hospitals-Choscal, Trinité, Carrefour and Chancerelle-and three others are outside the capital, in the towns of Leogane and Jacmel. Overall, MSF surgical teams have been carrying out an average of 130 operations per day. Simultaneously, logisticians are racing to find new facilities or rehabilitate damaged ones. Additional operating theaters are being prepared in Leogane and Grand Goave, west of the capitol, and inside Port-au-Prince, where a team expects to complete the construction of an inflatable hospital with two operating theaters by Friday.
Cross posted at The Wild Wild Left
In the meantime, vital medical supplies and equipment are still being diverted to the DR.
Six Doctors Without Borders/Médecins Sans Frontières (MSF) cargo planes loaded with vital medical material like antibiotics have been redirected to Santo Domingo, Dominican Republic. This will delay MSF staff's ability to treat patients who urgently need it.
Haiti: "This is a devastated community"
These pictures are from Trinite Hospital and were taken by Dr. Paul McMaster, who narrates, and his staff. The hospital was severely damages during the quake and several staff members were killed.