(6 pm. – promoted by ek hornbeck)
OTW = Off The Wall, this being the third of a series.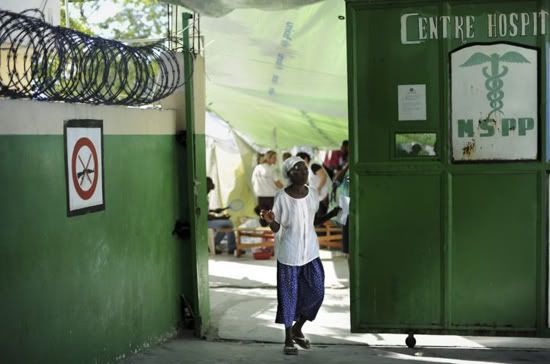 The entrance of Choscal Hospital, in Cite Soleil, which houses one of the ten operating theaters MSF has established in Haiti since the earthquake hit. source MSF
With Haiti Earthquake stories falling off the top headlines, except for stories of US Governors taking in 53 orphans and such, my heart and mind is with the Haitian people and our own MomCat who continues her work there with MSF. CNN and NPR have had some of the best coverage, as have several other of the non-mainstream and online sources. MSF's own press releases are some of the most informative. (There's also have a Facebook group, and Twitter of course). I'll share some info and excerpts from Democracy Now below the crease.
MSF Jan 20 Press Release:
According to Dr. Greg Elder, deputy operations manager for MSF in Haiti, some sites are facing a 10 to 12 day backlog of patients due to the huge number of people who need treatment and ongoing delays in getting crucial supplies into the country. Some victims are already dying of sepsis, an illness caused by infections that can affect people with untreated wounds. While the emphasis now remains on providing immediate care, Elder says that the next health risk could include outbreaks of diarrhea, respiratory tract infections, or other diseases among the hundreds of thousands of Haitians living in overcrowded camps with poor or nonexistent sanitation. Another issue is the provision of care for chronic illnesses that cannot be attended to in the emergency phases of a response such as the one now underway in Haiti.
TMC is somewhat more revealing in her comments here:
The problem is priority

which is being given to water, food, and heavy equipment We cannot save the lives of those who are being rescued, waiting for surgery or post op without those supplies. We have already lost quite a few to infection because there are no antibiotics left. Amputations are still being done without pain killers, forget anesthesia.
I wandered in yesterday to my social Forum (totally not political) to see what The Babes were saying about Haiti. There was some good discussion, one asked about where to donate clothes. After I posted my DFH comment, there was a response from this woman, a really intelligent caring sincere decent human being:
They do have a real safety concern, given that all the prisoners got out.
sigh. Help me out here folks, who can we write to? CNN's Anderson Cooper?
Action alerts

h/t to tahoebasha and dharmasyd, and of course TMC, for alerts and news here over the past several days.
If you haven't already, go sign this Food Not Troops petition from the International Action Center.
This is an important time to oppose to all forms of U.S. military occupation of Haiti. The peoples movement must demand that Haiti's airport be used for flights carrying desperately needed medical aid, food and water, not U.S. troops.

Your message to U.S. officials, U.S. and international media and to UN officials is an important step to call for international humanitarian assistance and to show international opposition to continued U.S. occupation of Haiti.
Amnesty International has this petition urging USA to rescind interdiction at sea policies:
Our hearts go out to all those who have been directly or indirectly affected by the devastating earthquake that struck Haiti on January 12. On Friday, the Obama administration granted temporary protected status (TPS) to Haitians in the U.S. – a move that could positively impact up to 100,000 Haitians!

TPS grants a 12 to 18 month grace period to undocumented Haitians living in the U.S., allowing them to live here securely and work safely.

We only hope that President Obama takes his actions one step further by rescinding discriminatory interdiction-at-sea policies,. Currently, the U.S. forces Haitians fleeing their country by boat to return to their own shores, without any meaningful review of whether they are eligible for international protection. International law obligates the U.S. not to forcibly return any individual to a situation where he or she is at risk of serious human rights violations.
EDIT 11am: just found this on CNN, video dated today, Desperate Haitians Flee By Sea.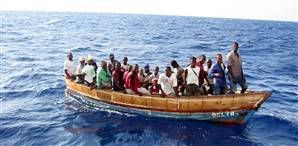 Yesterday's Democracy NOW had Amy Goodman with Journalist Kim Ives on How Western Domination Has Undermined Haiti's Ability to Recover from Natural Devastation. Let me just point you to go view their discussion of the history and political aspects.
Shortly after Haiti was hit by a 6.1 aftershock earlier today, Amy Goodman and Kim Ives of Haiti Liberté report from the Port-au-Prince airport. Amy and Kim discuss how centuries of Western domination of Haiti has worsened the impact of the devastating earthquake, from the harsh reaction to Haiti's independence as a republic of free slaves in 1804 to the US-backed overthrow of President Jean-Bertrand Aristide in 2004. Ives says, "This quake was precipitated by a political earthquake-with an epicenter in Washington, DC."
Aristide wants to return…
AMY GOODMAN: Now, from exile in South Africa, President Aristide held a news conference. He issued a statement saying he wants to return. I've put this question to a number of people here in Haiti. In Washington, President Obama immediately appointed President Clinton and President George W. Bush to spearhead the fund-raising effort to help the people of Haiti-three presidents, a united front, saying this is not partisan. And so, here in Haiti, the question of Aristide's return now. I mean, the US controls the airport. Prime Minister Préval ceded the control of the airport to the United States. But Aristide has asked to return. What about that image of, not to mention the resources of Prime Minister Préval, prime minister-previous prime minister Aristide-both presidents, rather-standing together and saying, this is beyond politics, we have to rebuild our country?

KIM IVES: Well, that's exactly it. I was standing in front of the General Hospital yesterday after we went through and saw the horrors there, and I was speaking to a crowd of people outside on the corner. And that very question came up. Why can't President Aristide come back? He wants to. He has said so. The government hasn't given or renewed his diplomatic passport, which has expired. They haven't given him a laissez-passer to come to the country. That's all that's needed.

If the government of Barack Obama or any other government wanted to really provide support here, even maybe more than all the C-130s we see offloading not just food and medical supplies, but guns, and lots of them, this would be-to send a plane to South Africa and bring Aristide here, it would create such a tremendous groundswell, a counter earthquake, if you will, of popular hope and pride and victory, that it would go a long way to rebuilding the necessary moral balance needed to weather the storm.
Gauze not guns…
KIM IVES: Like you said, Amy, this is the nub of the question. Security is not the issue. We see throughout Haiti the population themselves organizing themselves into popular committees to clean up, to pull out the bodies from the rubble, to build refugee camps, to set up their security for the refugee camps. This is a population which is self-sufficient, and it has been self-sufficient for all these years.

It's not now that a bunch of Marines have to come in with big M-16s and start yelling at them. Watching the scene in front of the General Hospital yesterday said it all. Here were people who were going in and out of the hospital bringing food to their loved ones in there or needing to go to the hospital, and there were a bunch of Marine-of US 82nd Airborne soldiers in front yelling in English at this crowd. They didn't know what they were doing. They were creating more chaos rather than diminishing it. It was a comedy, if it weren't so tragic.

Here is-they had no business being there. Sure, if there's some way where you have an army of bandits, which we haven't seen, on any mass scale going and attacking, maybe you might bring in some guys like that. But right now, people don't need guns. They need gauze, as I think one doctor put it. And this is the essence of-it's just the same way they reacted after Katrina. It's the same way they acted-the victims are what's scary. They're the other. They're black people who, you know, had the only successful slave revolution in history. What could be more threatening?

AMY GOODMAN: And the community organizations in place here?

KIM IVES: Oh, and the community organizations, we saw it the other night up at Matthew 25, where we're staying, the community. A shipload-a truckload of food came in in the middle of the night unannounced. It could have been a melee. The local popular organization, Pity Drop [phon.], was contacted. They immediately mobilized their members. They came out. They set up a perimeter. They set up a cordon. They lined up about 600 people who were staying on the soccer field behind the house, which is also a hospital, and they distributed the food in an orderly, equitable fashion. They were totally sufficient. They didn't need Marines. They didn't need the UN. They didn't need any of these things, which we're being told also in the press and by Hillary Clinton and the foreign ministers that they need. These are things that people can do for themselves and are doing for themselves.
EDIT 12:20pm: Here's the video, complements of edger. 🙂 Kim Ives interview up about 28:00 minute marker.
Anbody have more suggestions for action, letters, what? to help get the doctors their needed supplies faster? like now-ish? Anderson? Keith? Rachel?
It always seems impossible until its done.

Nelson Mandela