(2:00PM EST – promoted by Nightprowlkitty)
UPDATE: Change you can believe in from the Miami Herald:
The Obama administration is temporarily suspending deportations of undocumented Haitian nationals who are in the United States, Florida Gov. Charlie Crist said Wednesday at a news conference in Miami.

But there are no immediate indications from the Obama administration that it would grant Haitian nationals Temporary Protected Status in the aftermath of Tuesday's earthquake.

Better known by its acronym TPS, the immigration benefit is given to certain immigrants in the United States who cannot safely return to their countries because of armed conflicts, natural disasters or other emergencies. Those eligible for TPS are allowed to remain in the United States.

The approval of TPS has been long sought by Haitian activists and South Florida lawmakers.

On Wednesday, South Florida's three Cuban-American Republican members of Congress — Reps. Lincoln and his brother Mario Diaz-Balart, and Rep. Ileana Ros-Lehtinen, sent a letter Wednesday to President Obama requesting immediate humanitarian aid for Haiti and TPS for Haitian nationals in the United States.

"How much does Haiti have to suffer before Haitians in the United States are granted TPS," Lincoln Diaz-Balart told El Nuevo Herald in a telephone interview Wednesday. "The reason TPS exists… as an option for the President is precisely for moments such as this in Haiti."
4:53 is the official time noted that the earthquake that hit Haiti yesterday. Right around the time that TheMomCat and I were casually commenting here. Weird.
DONATE TO DOCTORS WITHOUT BORDERS (MSF) h/t randgrither
It is still unclear how many have been killed in the earthquake, which measured 7.2 on the Richter scale, but aid agencies fear thousands are dead.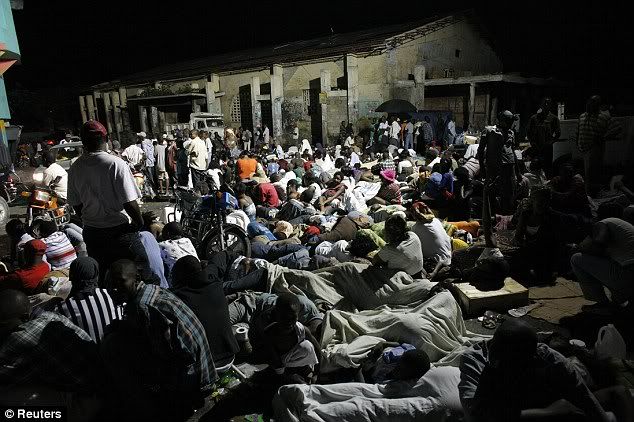 My daughter and I said some special prayers last night as we snuggled in our warm bed. Empathy. I couldn't get the idea out of my head of what it must be like for the people there. What a dreadful deep dark night they were facing. Even though there weren't many photos out yet, I could only begin to imagine. Having been through Hurricane Ike here a couple of summers ago, I at least know the frustration and dismay that comes with no power, no communication, no relief. But we were fine. Can't even begin to compare. We were able to camp out in (and outside) our old funky but sturdy home, get in our funky little car and drive back and forth to The Pod for government issued emergency water and supplies, and listen to our Emergency Weather Radio. A walk in the park for us. I cannot comprehend this…
Bodies on the streets

Aftershocks rattled the city of 2 million people as women covered in dust clawed out of debris, wailing. Stunned people wandered the streets holding hands. Thousands gathered in public squares singing hymns.

People pulled bodies from collapsed homes, covering them with sheets by the side of the road. Passersby lifted the sheets to see if a loved one was underneath. Outside a crumbled building the bodies of five children and three adults lay in a pile.

snip

Haitian President René Préval told the Miami Herald that he had been stepping over dead bodies and hearing the cries of those trapped under the rubble of the national Parliament building, describing the scene as "unimaginable."

"Parliament has collapsed. The tax office has collapsed. Schools have collapsed. Hospitals have collapsed," he said.

Préval issued an urgent appeal for aid.

Tens of thousands of people appear to have lost their homes and many perished in collapsed buildings that were flimsy and dangerous even under normal conditions.

"The hospitals cannot handle all these victims," Dr. Louis-Gerard Gilles, a former senator, said as he helped survivors. "Haiti needs to pray. We all need to pray together."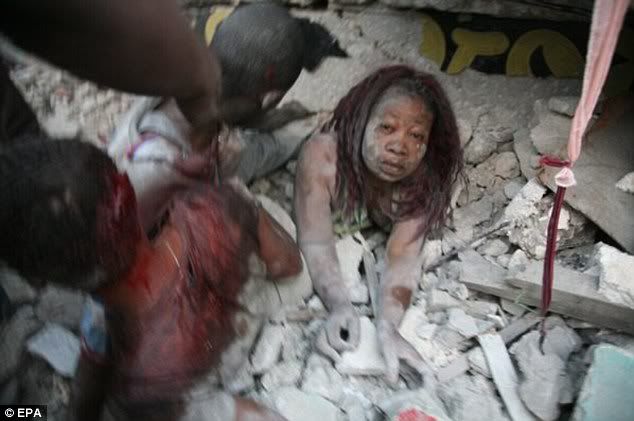 This is a good short video from AP that gives a very quick overview of the small nation's history. video here: http://news.yahoo.com/video/wo…
Desperation is nothing new to a poor people who have been struggling in a mess of poverty, disasters, and political strife for decades.
Because of its location, Haiti's climate is tropical, its forests are lush and green, and its beaches are sprawling. All of this would seem to make the country an ideal spot for tourism. But years of political violence, corruption, deforestation, crime and natural disasters have severely hindered its development efforts.

Haiti also lies in the middle of the hurricane belt, making it subject to severe tropical storms during the Northern Hemisphere's summer season. Along with flooding, it also is vulnerable to periodic drought and occasional earthquakes.

In 2008, Haiti was devastated by four storms, which killed hundreds of people and wiped out 15 percent of the country's economic output. World Bank President Robert Zoellick estimated that the storms caused nearly $1 billion worth of damage.

Haiti is the hemisphere's poorest nation, with 70 percent of its 9.8 million people living on the equivalent of less than $2 a day. An estimated two million or more live in its capital Port-au-Prince, many of them in densely populated slums.
This catastrophe is all over the news and there's gobs of appeals for aid and relief in blogs, on my teevee and the tubes. However, I've heard very little about this other angle so far, except a brief spot this morning on msnbc from Debbie Wasserman Schultz (and Congressman Alcee Hastings of Miramar) renewing the call for granting "Temporary Protected Status (TPS)" to undocumented Haitians in this country to prevent their deportation.
Here's a long (sorry) quote from Human Rights First on the subject:
Under U.S. procedures, migrants who are interdicted on boats are not given access to lawyers and are not all screened to make sure that they are not refugees who are in danger of persecution if returned. While Cuban migrants are read a statement in Spanish notifying them that they may come forward and speak with a U.S. representative if they have any concerns and Chinese migrants are provided with a written questionnaire, Haitian and other migrants are not provided with any indication, written or oral, that they can express their fears about being returned. Even if a Haitian asylum seeker should voice a fear of persecution, the U.S. government does not require that translators be present on every interdicted boat so their fears may never be heard.

Since an influx of arrivals of Haitian asylum seekers by boat began in December 2001, the U.S. government has initiated a series of concerted steps that have subjected Haitians to blanket detention, have attempted to deprive them of any meaningful individualized assessment of their release, and subjected them to unfair expedited procedures. These steps include:

* The initial blanket detention policy directed at Haitian asylum seekers.

* The invocation of expanded post-9/11 detention authority in an attempt to prevent the release of Haitian asylum seekers who were found to be eligible for release by immigration judges.

* The expansion of expedited removal to sea arrivals – which had the effect of subjecting future Haitian asylum seekers to unfair summary procedures as well as depriving them of the right to have an immigration judge assess their eligibility for release.

* The expedited scheduling of Haitian asylum cases — so quickly that many were not able to find legal representations.

* The issuance of a sweeping decision by the Attorney General which will have the effect of depriving Haitan asylum seekers of an individualized assessment of the need for their continued detention.

While the INS initially denied that a special detention policy existed, it eventually had to concede the existence of this policy after a federal lawsuit was filed by the Florida Immigrant Advocacy Center on behalf of the Haitians. Human Rights First has filed two amicus briefs in this case, arguing that the discriminatory Haitian policy violates international law. Various justifications have been proffered for this special Haitian policy. These justifications have ranged from claims that the policy is necessary to deter Haitian asylum seekers from risking their lives by fleeing to the U.S. by sea to more recent claims that this policy is somehow in the interests of "national security."

On December 13, 2002, Human Rights First submitted comments to the then-INS denouncing a November 13 notice in the Federal Register authorizing expedited removal for Haitian and other migrants who arrive by sea (with the exception of Cubans). The notice would result in an expansion of unfair deportation and detention procedures to Haitian and other sea arrivals.

On April 17, 2003, Attorney General Ashcroft issued a sweeping precedent-setting decision which will result in the indefinite detention of Haitian and other asylum seekers who request refuge the United States. Human Rights First and other major refugee rights organizations had urged him against this plan. The decision paints Haitian refugees arriving by boat and seeking safety from persecution as threats to national security. As a result of the Attorney General's decision, Haitian men, women and children – who have no intent to harm the United States – will be detained in jails or other facilities for months or years without being given a meaningful chance to demonstrate that their detention is unnecessary.
Jeezuz.
I'm looking for more current info on this. Bear with me. Okay here's, in 2009, a really good piece here – it's a blog opinion not formal MSM News source, written by Stephen Lendman is a Research Associate of the Centre for Research on Globalization. (Note: This stuff isn't easy to find quickly.)
Haitians began arriving in South Florida about 50 years ago, but were denied the same rights and treatment as more favored immigrants like Europeans. Fleeing repressive dictatorships hardly mattered during years under "Papa" and "Baby Doc" Duvalier or when military dictatorships ran the country.

In September 1963, the first boatload claiming persecution arrived but were denied asylum and deported. Decades later, it's the same. After a 1991 coup deposed President Jean-Bertrand Aristide, thousands of Haitians fled to America. Most were intercepted at sea and sent home while around 300 were detained at Guantanamo because tests showed they were HIV positive.

Conditions at the camp were deplorable. Treated like prisoners, they were held behind razor wire in leaky barracks with bad sanitation, poor food, and little medical care even for the sick and pregnant women. After protests and a hunger strike, crackdowns were severe, many were imprisoned, and Clinton White House justification was no different than today. The DOJ claimed Haitians had no legal rights under the Constitution, federal statutes, or international law. Wrong.
Did you know all this? I didn't. Well I do kinda live under a rock, or did until recently. More from Mr. Lendman…
In 2008, Obama campaigned vigorously for South Florida's Haitian vote. Now he's betrayed it the way he's abandoning millions of distressed households by providing little in real relief compared to trillions in handouts to Wall Street and the rich.

After Congress established TPS in 1990, Washington granted 260,000 Salvadorans, 82,000 Hondurans, and 5000 Nicaraguans protection, then extended it on October 1, 2008. It lets the Attorney General grant temporary immigration status to undocumented residents unable to return home due to armed conflict, environmental disasters, or other "extraordinary and temporary conditions." Besides El Salvador, Nicaragua and Honduras, past recipients included Kuwait, Lebanon, Bosnia-Herzegovina, Guinea-Bissau, Rwanda, Burundi, Liberia, Montserrat, Sierra Leone, Somalia, Sudan, and Angola. Six nations still have TPS, but all face expiration in 2009 unless extended.

Haitians never got it, yet granting it is the simplest, least expensive form of aid so Port-au-Prince can concentrate on redevelopment while Haitians in America help through remittances back to families. In 2006, they sent $1.65 billion, the highest income percentage from any foreign national group in the world.

In 1997, the Clinton administration granted Haitians Deferred Enforced Departure (DED) for one year. Currently about 20,000 Haitians qualify for TPS, a much smaller number than for other recipient countries.

Nonetheless, deportations are proceeding with 30,299 on "final order of removal" status, meaning an immigration judge ordered them out. About 600 are in detention, 243 others are electronically monitored, and all 30,000 will be removed by an administration as callous to the poor as previous hard-liners under George Bush. In America, everything changes, yet stays the same, even under the first black president.
4:53.
In the blink of an eye.
Bloody hell.
UPDATE 1: from Haiti Liberte, Oct 2009
Oct 28 2009. Some 50 Haitians and their supporters held a spirited demonstration in front of the Fontainebleau Hotel in Miami Beach on Monday, Oct. 26 to demand that President Obama immediately grant Temporary Protected Status or TPS to some 35,000 undocumented Haitians currently in the US.

Obama was at the hotel for a fundraiser for Democratic Florida congressmen Alcee Hastings and Kendrick Meek, who is running for senator.

The demonstration was organized by the Haitian American Grassroots Coalition, Institute of Justice and Democracy (IJDH), Florida Immigrant Coalition (FLIC) and Free Haiti Now, all groups which had been expecting Obama to reverse the Bush administration's denial of TPS to Haitians last December.

"We are all frustrated that more than nine months after President Obama's inauguration Haitians still don't have TPS despite the incredibly broad editorial and political support for it, including from the three South Florida Republicans in the US House of Representatives," said Steve Forester, an immigration lawyer and long-time TPS advocate who presently represents the IJDH in Florida. "And we are doubly surprised that we have not yet gotten a response to our request to at least give people the dignity of the right to work while the administration continues, month after month, to review the propriety of granting TPS, which to us and every objective observer is a no-brainer, based on the four hurricanes and storms that hit Haiti in a one-month period a year ago."

TPS, which briefly can be granted by executive order to undocumented immigrants in the U.S. who are temporarily unable to return to their nation because of a natural disaster, armed conflict, or other extraordinary circumstances. Since it was established in 1990, TPS has been granted to immigrants from Nicaragua, El Salvador, Honduras, Burundi, Somalia, Montserrat, Sierra Leone, Sudan and Liberia.

"We need the administration to grant TPS or at least, while they are considering it, to grant work permits on a case by case basis to TPS-deserving non-criminal Haitians who desperately need work permits, drivers licenses and the ability to feed their families, pay electricity bills, and send remittances to Haiti which can support up to ten times that number, thereby increasing Haiti's security and our own," Forester said.
NOTE: Noon EST: I'm going to go ahead and hit publish on this now, but meanwhile I'll continue my reading and research. I'll edit and update with more. If anyone has links or info for me, please drop 'em in comments. Thanks, LL)
Prayers for TheMomCat and MSF crew en route…Godspeed.