( – promoted by buhdydharma )
It's official. The USA Patriot Act is no longer the greatest social achievement of our time. The Baucus/Lieberman Perpetual Serfdom Act has just been awarded that distinction. Obama is immensely proud of it. "Pragmatic" progressives are saluting it. They're telling us we should be grateful for the crumbs Democrats toss us, they're ridiculing us for taking a stand on principle, they're calling it "wanting our ponies", they never shut up, their condescending lips are always flapping, their lips never stop flapping until police state decrees like this are issued from on high . . .
After hearing passionate arguments from the Obama Administration, the Supreme Court acquiesced to the president's fervent request and, in a one-line ruling, let stand a lower court decision that declared torture an ordinary, expected consequence of military detention, while introducing a shocking new precedent for all future courts to follow: anyone who is arbitrarily declared a "suspected enemy combatant" by the president or his designated minions is no longer a "person." They will simply cease to exist as a legal entity. They will have no inherent rights, no human rights, no legal standing whatsoever.
Every time Obama channels Cheney and goes all medieval on us, his Obamabots fall silent. All we hear is crickets. Until the next greatest social achievement of our time is announced. Then the festivities begin anew and anyone who doesn't join in gets burned as a witch.
For corporate fascists keeping score at home, that's two great social achievements in one week! For "pragmatic" progressives, it's one great social achievement and a minor disappointment. Nothing to dwell on. Clap louder and it'll go away. For actual progressives, it's the final evidence that we no longer have any choices left. There is only one way to fight back now. We have to boycott the major parties in the 2010 Midterms. Vote 3rd party. Vote for a write-in candidate. Take electoral action in whatever way you think is most effective.
Iranians can die for democracy . . .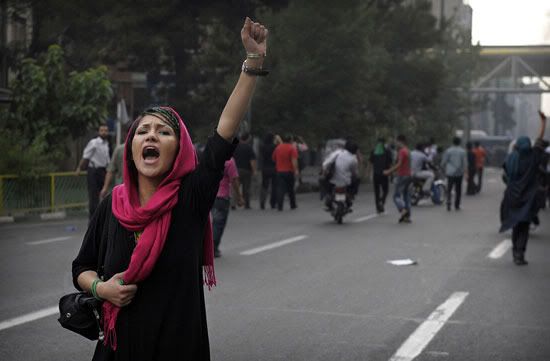 But we can't even boycott an election?
Don't argue about it. Do it. Call it what you want. Get to work organizing it. Get to work publicizing it. Help in any way and every way you can or get the hell out of the way.
Democrats told us they couldn't Impeach because "we don't have the votes". They told us they couldn't pass single payer because "we don't have the votes." They told us they couldn't give us a strong public option because "we don't have the votes." They told us they couldn't even give us a watered down public option because "we don't have the votes."
When progressives boycott the Midterms, Democrats will discover the true meaning of "we don't have the votes." They've been using it as a bullshit excuse, we're going to use it as a warning, as a nationwide declaration that we will no longer tolerate betrayal.
"Pragmatic" progressives will freak out, we'll be lectured about "reality" by people who think that gutter they're crawling in is the Yellow Brick Road to Incremental Change. They've been crawling in that gutter of "political reality" ever since their anti-Impeachment days. They weren't worth listening to then and they never will be.
We've supported Democrats over and over again, election after election, but nothing ever changes. Doing the same thing over and over again expecting different results is insanity. It's insane to keep reelecting corrupt politicians who keep betraying us.
WE ALL NEED TO STOP DOING THAT.
This would be a good time to take a reality-based quiz . . .
"Pragmatic" progressives who demonize Jane Hamsher for working with a Republican on one issue, but who praise Obama, who's been working with Republicans ALL YEAR ON EVERY ISSUE are . . .
A. Reeking hypocrites.

B. Extremely unintelligent.

C. Frequently unconscious.

D. All of the above.
Obama's Secretary of Defense is a Republican, his top two economic advisors are Republicans. Gates tells Obama to jump and he asks how high. Geithner tells Obama to jump and he asks how high. Summers tells Obama to jump and he asks how high.
That's "pragmatism", according to the frequently unconscious, extremely unintelligent, reeking hypocrites who jump along with Obama every time.
Am I pissed off? You're fucking right I'm pissed off.
But hey, I'm not saying "pragmatic" progressives aren't performing a vitally important function. Someone has to be the reasoned voice of pragmatism so those wild-eyed radical rabble-rousing Democrats in Washington won't go too far to the left and scare the hell out of Luke Russert.
Some of you may be wondering how incremental pragmatists suddenly became the greatest social engineers of our time. I've been wondering the same thing. Maybe one of those Obamabot drones in that reality-based community hive I've heard about can explain it. But from what I've seen, it's painfully evident that neither those great social engineers nor their admirers who keep lecturing everyone else to face reality have any idea what reality is anymore.
Perhaps we can resolve this issue by reviewing some basic facts: The healthcare crisis is REAL and it keeps getting worse. The nationwide mandate for major reform is REAL but Democrats are squandering it. The pervasive corruption in both major parties is REAL but neither party will do anything about it. The consequences of that corruption are REAL and are destroying our political system, our banking system, our economy, and the rule of law. The anger of Americans is REAL and Democrats are inciting more of it by being craven corporate hacks.
You like reality, "pragmatic" progressives? Good. I just gave you all a big plateful of it to chew on. Swallow every bite. Try not to choke on it.
Boycotting the Midterms would not only be taking a stand for our progressive principles, it would be defending reality itself. Both have been under attack by Republicans and now Democrats are taking their turn. The latest example of rampant unreality is that piece of shit bill written by the insurance industry and gutted by Lieberman being proclaimed as "the greatest social achievement of our time." Both parties distort reality, it's politics, I'm told. But distorting reality is not politics anymore, it's gone way beyond that. It's national suicide.
When is the last time Democrats took a stand against corporate power and did not back down? When??? 1963? They needed to demonstrate political courage, strength, and decisive leadership in 2009, but they didn't, and every American is paying the price. It's time for Democrats to pay the price for their moral cowardice and treachery. It's time for a confrontation. It's time for a showdown. It's time to boycott the Midterms.
Everywhere. In every Congressional district. In every state.
I'm told we can't do that, Democrats might lose control of the House, they might even lose control of the Senate. I've thought about that, I've considered the implications, I'm going to try one last time to give a damn about Democrats losing Congress . . .
Democrats don't give a damn about us, so why should we give a damn about them? If they gave a damn about us they would have fought for single payer, we would have gotten a strong public option at the very least. But they turned their backs on us, they've turned their backs on us for 40 years. It's time to turn our backs on them. Let's see how they like it. Let's give them a dose of their own medicine. Let's see if they can win an election without their base.
Let's see them give that a try.
We haven't been able to control how Democrats vote in Congress, but we can control whether we vote for them or not. Our power to do this is in our hands. Reid can't stop a boycott. Pelosi can't take it off the table. Baucus can't riddle it with loopholes. Lieberman can't filibuster it. K Street can't lobby it to death. Rahm can't bully us into backing down. Obama can't triangulate us into the Twilight Zone.
Send them a message.
Send them all a message.
Boycott the major parties in the Midterms