All the News That's Probably NOT Fit to Print on the Front Page of the New York Times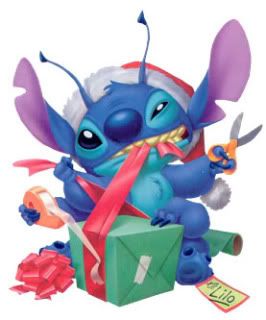 Not again! Giant Swedish Christmas goat statue gets torched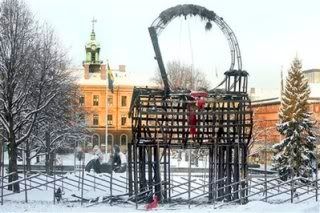 Wed Dec 23, 1:22 pm ET

STOCKHOLM (Reuters) – Arsonists set fire early on Wednesday to a giant straw statue of the Swedish Yule goat, a forerunner to Santa Claus in Sweden, defying security measures for a third year in a row.

Police in Gavle, north of Stockholm, said an unknown number of attackers had torched the goat in the early morning hours, leaving a blackened skeleton standing in the town square.

"It's a tradition to burn it down," Lofberg said. "It's happened an untold number of times since the 1960s … it's been burned down more years than it's survived."

Burning the goat has been a popular, and illegal, tradition in Gavle since the 1960s when an advertising executive first came up with the idea to endow the city with a giant replica of the goat, a Christmas decoration common in many Swedish homes.

There were no witnesses, but a bottle of lighter fluid was found near the goat's frame, which stood about 12 meters tall at the apex of its horns, police told Reuters.
OK, Dear Hearts, take it away. Feel free to add anything wierd, odd or just plain too stupid to be believed. This is a Weird Open Thread
The secret of Xmas crackers — pull downwards
LONDON (Reuters) – A British department store has worked out a formula it says will make sure festive feasters are never again left holding the short end of a pulled cracker.

"Success is mainly down to the angle, grip, cracker size and 'lines of failure' or where the cracker is likely to tear," said Debenhams.

When pulled, a cracker will always rip at a weak point connecting the reinforced barrel section to the tails, the store added.

By pulling backwards and down at the same time, it is possible to concentrate the force across the top face of the opponent's line of likely failure.

The cracker should be gripped about an inch from the end of the tail closest to the barrel. The tail should be kept in line with the barrel as it is pulled backwards and downwards, with an even force.

For the serious puller, the store has worked out a mathematical formula: O = 11xC/L + 5xQ, where O is the optimum downward angle for pulling the cracker.

C stands for the circumference of the barrel, L is the barrel's length and Q is the quality of the cracker — pricier versions are often made from stronger material which will increase the optimum angle of pull.

Q has a value of one, two or three depending on whether the cracker is cheap, standard or expensive.

Debenhams said the formula should produce a two-digit figure between 20 and 55 degrees, which is the optimum pulling angle below the horizontal.

"Don't worry, it's less complicated than it looks," it adds.
Have you got that straight now?
Mouse infestation closes Pa. Capitol cafeteria
HARRISBURG, Pa. – Why is the cafeteria at the Pennsylvania Capitol infested with mice? Probably because health inspectors didn't visit it for four years.

State law requires annual checks for health and sanitation. Auditor General Jack Wagner said Thursday he received assurances in 2005 that the state Agriculture Department would inspect it.
Search of car turns up gift-wrapped marijuana

(sigh) Somebody's Christmas was ruined.
Donkeys escape from live nativity scene in Colo.
VAIL, Colo. – A living nativity scene in near the Colorado ski resort of Vail almost had to go without two crucial actors when two donkeys escaped.

The nativity scene is an annual tradition for Eagle River Presbyterian Church in the Vail Valley. Pastor Rob Wilson says two borrowed donkeys were being held in a fenced-in pen for the event Wednesday night, but the animals pushed their way through it.
Woman calls 911 when husband refuses to eat dinner
KERRVILLE, Texas – Prosecutors will review the case of a woman authorities claim has called 911 30 times over six months for non-emergency reasons, including a call to complain that her husband refused to eat his dinner. Last Friday, the woman allegedly made a pair of calls to 911, including a hang-up and another where a woman was heard screaming.
And I thought this only happened in NYC. It's pandemic.
Dead drunk policeman stripped of martyrdom
BEIJING (Reuters) – The Chinese police captain who named his subordinate a "martyr" after he died from a drinking binge has been suspended, the Shenzhen Public Security Authority said on Tuesday.

Traffic officer Chen Lusheng of the southern city of Shenzhen was off-duty when he attended a banquet with officials from Mabu village in late October. After repeated toasts, he vomited and passed out on a couch, where he suffocated, state media said.