(noon. – promoted by ek hornbeck)
In Empire of Illusion, Chris Hedges examines the pervasive ways in which Americans are separated from the complexities of reality and become trapped in a mind-killing, reality-destroying, one-dimensional existence. For most of them, there is no way out of this corporate capitalist prison; for most of them, there is no escape; they can't even try to escape because they don't even know they've been locked up. They don't see the guard towers, they don't see the walls, they don't even saw the bars of their own cells.
Chris Hedges . . .
We consume countless lies daily, false promises that if we spend more money, if we buy this brand or that product, if we vote for this candidate, we will be respected, envied, powerful, loved, and protected. Reality is dismissed and shunned as an impediment to success, a form of negativity, it is condemned as defeatist. Those who question, those who doubt, those who are critical, those who are able to confront reality and who grasp the hollowness of this culture, are shunned and condemned for their pessimism.

Human beings have become a commodity. They are objects, like consumer products. They have no intrinsic value. Life is a brutal world of unadulterated competition. Life is about the personal humiliation of those who oppose us. Those who win are the best. Those who lose deserve to be erased. Compassion, competence, intelligence, and solidarity with others are forms of weakness.
In accordance with these lethal illusions, progressives are weak and deserve to be erased. Conservatives are strong and deserve to rule. Capitalism is sacred. Conformity is sanctified. Dissent is condemned. The corporate media pounds this narrative into the public consciousness every hour of every day, in every conceivable way, through every visual, aural, emotional, and psychological form of communication ever devised. The consequences have been devastating.
We have been plunged into a moral void. No one has any worth beyond his or her appearance, usefulness, or ability to "succeed." The highest achievements are wealth, sexual conquest, and fame. It does not matter how these are obtained. These values, as Sigmund Freud understood, are illusory. They are hollow. They leave us chasing vapors. They urge us toward a life of narcissistic self-absorption. They tell us that existence is to be centered on the practices and desires of the self rather than the common good. The ability to lie and manipulate others, the very ethic of capitalism, is held up as the highest good.

The cult of self dominates our cultural landscape. This cult shares within it the classic traits of psychopaths; superficial charm, grandiosity and self-importance; a need for constant stimulation, a penchant for lying, deception, and manipulation and the inability to feel remorse or guilt. This is, of course, the ethic promoted by corporations. It is the ethic of unfettered capitalism. It is this perverted ethic that gave us Wall Street bankers and investment houses that willfully trashed the nation's economy and stole money from tens of millions of small shareholders who had bought stock in these corporations for retirement or college.
America's corporate system is psychotic. America's political system is psychotic. The psychopaths who control our political and economic systems exhibit superficial charm, grandiosity and self-importance. They lie, deceive, and manipulate, they feel no remorse or guilt.
When we consider what must be done in order to restore democracy and social justice to this country, we have to understand that we are not dealing with rational people, we are dealing with psychopaths. Like this one . . .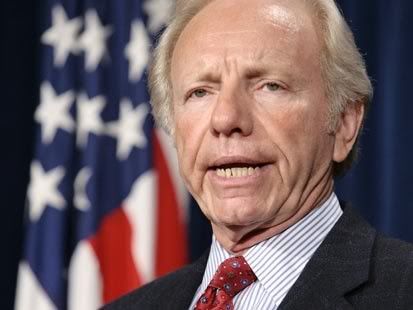 Superficial charm. Grandiosity. Self-importance. Lieberman lies, deceives, and manipulates, he feels no remorse or guilt.
The list of psychopaths in the government is endless. From the Pentagon to the NSA, from the bankrupted Treasury to the blood-drenched halls of the CIA, from C Street to K Street, that city of treachery is filled with psychopaths. This isn't the Capitol . . .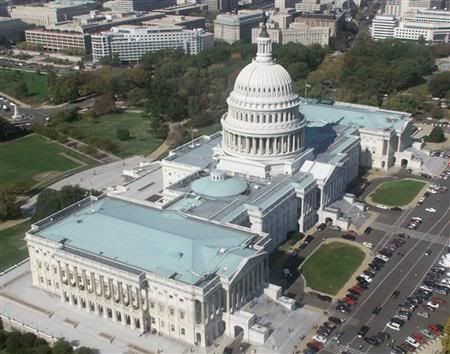 It's a psych ward with a dome on top of it.
The list of psychopaths on Wall Street is endless. The CEO's of the big banks, the hedge fund managers, the credit default swappers, the stock and bond traders all lie, deceive, and manipulate, they feel no remorse or guilt for the suffering and misery they've inflicted on an entire nation. This isn't the New York Stock Exchange . . .
It's a psych ward with a flag hanging off it.
The list of psychopaths in the corporate media is endless. Watch a news or political program, and what do you see? Superficial charm. Grand pronouncements. Lies. Deceit. Manipulation.
As Chris Hedges explains, the lethal illusions created by these psychopaths deflect "the moral questions arising from mounting social injustice, growing inequalities, costly imperial wars, economic collapse and political corruption. The wild pursuit of status and wealth has destroyed our souls and our economy."
Progressives have to devote far more attention to exposing the lethal illusions that are destroying this country. That task includes exposing the illusions that so many supporters of Obama and the Democratic Party are still clinging to. The Democratic establishment is not offering any solutions, all it is offering is more illusions. The illusion of change, the illusion of representation, the illusion that "centrists" must be accommodated, the illusion that the Democratic Party still deserves the support of a base it has betrayed for 30 years, and the illusion of all illusions, that capitalism deserves to be saved.
The Democrats' health care "reform" bill is the latest lethal illusion, that bill is as Orwellian as it gets. The series of betrayals we've all seen during this health care reform fiasco provides glaring, conclusive, and damning proof that the Democratic Party is gone, there's nothing left of it but corporate whores and powerless progressives who get beaten into submission on every issue every time.
No one, no one rises to a leadership position in that party unless the corporate establishment permits it. Consequently, electing more-and-better rank-and-file Democrats has little if any effect because the leadership will always control the legislative process and will always manipulate that process in order to benefit the corporate establishment and prevent real change.
Too many progressives keep arguing about the details of proposed policies that aren't policies at all, they're illusions. We wasted an entire year of time, effort, and energy debating the details of healthcare reform when it should have been obvious that the fix was in all along. We should have been focusing on the ultimate issue–the psychosis that is destroying America's economic and political systems. Psychopaths control our economy and government. The proof is staring us in the face. And so are the consequences.
I am fucking tired of hearing all of the excuses so many progressives keep making for Obama and the Democrats. They've had an entire year to show us they were serious about bringing real change to America. They didn't show us that. They didn't show us shit. Smoke and mirrors is all they've shown us.
Obama and the Democrats could have done what they were elected to do, they could have gone into 2010 with an energized base and the growing confidence of the American people. But they haven't done what we elected them to do, they've obeyed their Wall Street masters, they've obeyed their Pentagon masters, they've betrayed us by not holding BushCo accountable, they've tossed even more of our civil liberties away, they're escalating the war in Afghanistan, they gutted the public option, but even that wasn't good enough for that psychopath from Connecticut, so the public option is gone for good and so is the Medicare buy-in.
After this debacle, after this sickening display of absolute submission to the private insurance industry and their thugs in Congress, anyone who claims the Democratic Party still deserves the support of progressives, anyone on any blog, anyone in any diary thread who still defends that party of spineless fucks is no longer worthy of any attention.