( – promoted by buhdydharma )
Since today is my Father's birthday, I thought I'd share a brief story about one of his experiences 40 years ago, and how learning about this experience contributed to my perspective today.
On November 15, 1969, my Father was in Washington DC for what is still the single largest anti-war protest in American history to date — the second Moratorium against the Vietnam War, in which it has been estimated that between 250,000 and 750,000 citizens arrived to demonstrate in the nation's capital. As a lieutenant commander in the United States Public Health Service, my Father was volunteering on site at a medical van as part of an emergency response team. He helped treat several patients who were suffering from burns and injuries when police tear gassed a group of demonstrators who protested violently later on during the day. In fact, he even suffered eye burns of his own from the tear gas, simply by being in the vicinity where police and demonstrators clashed.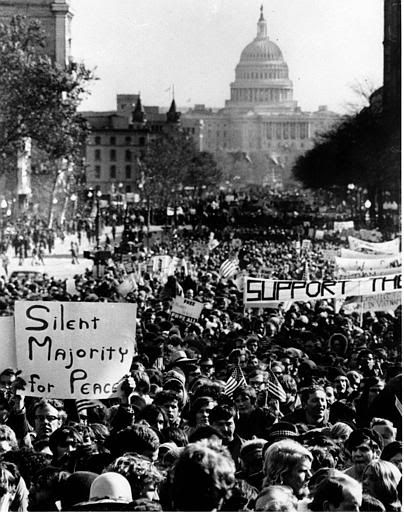 Nine years ago, while recollecting on that day's events, my Father told me that he was struck by three things about the protest:
A) How peaceful the vast majority of demonstrators were considering how many of them showed up to register their palpable frustration and anger over the Vietnam War (with the exception of those who threw rocks at police officers).
B) The diversity of the crowd, which brought together people from all walks of life — those from the East and West, students and veterans, people from affluent neighborhoods and others from the projects — all joined together for the common cause of calling for an end to war.
C) How long the day seemed. My Dad woke up very early that morning (around 4:30 am) to get to an area near the Capitol Building around 6 am, and stayed on site, manning the medical van, until about 10 pm. Just think about that for a minute: Spending 16 (!) hours of a single day, in cold November weather, from before dawn until very late at night, among literally hundreds of thousands of other Americans for a peaceful, political demonstration. The fact that there has never been another single anti-war protest of that magnitude in this country speaks to how historic an event it was — the likes of which I doubt I will see in my lifetime.
In the days following the Moratorium, as he told me, he remembered watching some late-night news program where they reported on a small number of casualties of American soldiers. He said he thought it was suspicious that the news network didn't report the number of civilians who were killed, and he remained very skeptical that the news anchors were deliberately under-reporting the devastation in Vietnam to prop up the Nixon Administration's war effort.
My Father did not fight on a battlefield overseas, nor receive any medals of honor. But on November 15, 1969, he served his country honorably. He has been serving his country honorably every day since as a physician, a man dedicated to progressive causes and to helping others.
On March 20, 2003 — the day after we invaded Iraq — my Dad was one of the first two people I spoke to on the phone (the other being my Mother). I was terribly upset that night. We talked for a long while about I was worried this was going to be a long, long war with no end in sight like Vietnam back in his day. My Dad told me that Vietnam was something that he never really understood why we had to be there, and eventually he just grew to accept it as a daily fact of life — that waking up each day meant another day that the U.S. was fighting a war. And then one day, when Vietnam was drawing to a close, it just sort of "faded away," to use his words.
I asked him if he thought this war would just "fade away" in time. He said he didn't know, but that he and Mom would be there for me anyway.
*************************************
As I wrote in a recent diary on Daily Kos and in multiple comments for the past few weeks, I am very opposed to President Obama's decision to escalate the Afghanistan War, which I think is a big mistake. I will not rehash all of the reasons behind my opposition here, but I think it is clear that my perspective of war has been shaped to some degree by my Father's influence.
Last week, Obama attempted to rationalize his war policy for the American public in part by dismissing the similarities between escalating the conflicts in Vietnam and Afghanistan. While there are certainly significant differences between the two wars, it occurred to me that there is a very important parallel that has nothing to do with the conflicts themselves, but about we the people.
My Dad, like so many anti-war protesters in 1969, was a conscientious objector, and he has since raised three sons who strongly object to our country's war policy. He took a stand against the Vietnam War because, simply put, he was tired of it — of the cost, the human toll, the burden of a long, drawn-out, international conflict, and the fact that our elected officials told conscientious objectors like my Father to grin and bear it all, because our nation's survival supposedly depended on winning the war. I, like many others here on Daily Kos, have long since taken a stand against the Afghanistan War, because I too am tired of it, for the same reasons that my Father grew weary of Vietnam.
For me, the key similarity between Vietnam and Afghanistan isn't about military strategy, or tactics, who we're fighting, or how many troops we send in to fight them. It's about us. It's about my Dad and me. It's about the fact that like my Dad years ago, I have woken up every day for years just sadly acknowledging that we're a country at war. It's about the fact that I've been told for years that objecting to the war means I'm unpatriotic, I'm denigrating the troops, and I don't care about national security. I'm tired of it, and I'm terrified that I will live for many more years before this all "fades away."
*************************************
In thinking about the various debates and arguments I've had with multiple supporters of Obama's current Afghanistan policy, I've been wondering how our familial experiences play a major role in shaping our attitudes to political issues. Whereas I come from some fairly adamant anti-war stock, I suspect that many supporters of Obama's decision to escalate the Afghanistan conflict come a different set of circumstances than those of my own. I've also been thinking that perhaps if we fully understood the nature and history by which we have come to take the political positions we do, and took the time to discuss our personal backgrounds about our families, friends, experiences, and how they've helped to shape our contrasting worldviews, then there would probably be much more reasonable, civil debate about these topics.
So, I'm up for a civil debate. How about you?
Cross-posted at Daily Kos