Because HERE we can say Fucking! And that is almost reason enough to exist.
Docudharma is not what I thought it would be when we launched it two years ago today, but that's okay, I knew it wouldn't be! Because while the administrators of any semi-free form group effort can TRY to shape what that effort produces, they cannot control it. And though some structure is necessary, too much structure from the top inevitably kills creativity.
Though of course the anarchy-ist of us undoubtedly would complain that there IS too much structure….no matter how much structure there is…or isn't! That is sort of who we are, or what DD has become. An expression of, to steal a phrase…The Left of the Left. Well more technically, the Left of the Left that is still making SOME effort to participate in The System.
And the Left of the Left (for once the critics are right, in this) IS never happy. We always want more. The Left of the Left can be summed up in one quote from RFK: "There are those who look at things the way they are, and ask why… I dream of things that never were, and ask why not?"
When you can see the potentila of this world, this country, and then you see how dreadfully far we are from fulfilling that potential, you will never be satisfied….until the day that potential is fulfilled. And we are a LONG way from there.
The true Left of the Left has no interest in participating in the system. They have either given up on The System, rightfully complaining of its corruption and refusing to participate. And the Best of The Left of the Left have found ways to bypass The System and found other ways to serve the world.
And that leaves us! Vacillating constantly between saying…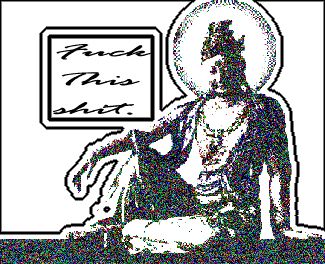 …and working our hearts and asses of to change The System that oh so frustratingly tiny little… BUT HUGELY AND INCREDIBLY IMPORTANT bit that we can, by participating it.
The Left of the Left are Fucking Heroes.
Knowing that we will almost certainly NEVER get exactly what we want…but knowing too how infinitely much more The System would completely and horrifically suck without us. Without us trying to pull the whole thing as Far Left as we can….even while we know that we will never pull it far enough to suit us.
I don't want to sound like we are some kind of martyrs or try to paint us as some Noble and Pure Saints, anyone who has tangled with us knows we aren't saints, lol. But yeah…imagine America without the Left of the Left. (shudder!) Imagine it without the pressure we bring on the entire system.
I don't have the heart…or the time!… to detail how that America would look, and it really is too scary to think of it!
Because, despite what our legions of detractors say, (and to go ahead and paint us as Noble and Pure Saints anyway, even after saying I wouldn't, lol) …all of the pressure we bring, all of the causes we promote, and even all of the nastiness we sometimes sling in our efforts to keep pushing America to The Left really DO come from one place, one principle, one central tenet.
Love.
And not even our critics can honestly say different, can honestly find or ascribe a different motive for what we do. Though Goddess knows they try!
We represent the Principle of Love in American Politics.
The principle of compassion, the principle of equality…which is essential to love, the principle of justice for all of this planets creatures, right down to snail darters and spotted owls.
We represent Love for the victims of torture, love for our Afghan and Iraqi brothers and sisters, love for the poor of America and the world, love for the downtrodden and under-represented, love for the migrant workers coming to America, love for the Underdog everywhere and in every form.
We ARE Purists…to that extent. We NEVER want to uncompromisable away from Love. Even though we know that everyday, we will have to. And despite what the folks who are eager to compromise say. There is NOTHING wrong with that form of "Purity." Nothing wrong with it at all.
We fight hate and injustice and inequality every fucking day, each in our own unique and often weird ways.
AND IT IS ESSENTIAL that we do so, that someone do so. And right here, right now…WE are the ones doing that. (Among others of course)
It is NOT an easy job. An easy fate, if you will, to be compelled to fight for love in this world. And in the time that Docudharma has been in existence we have seen the world transform (though not…though never….as much as we want, not even close!) We started in the last year of perhaps the most UNloving, most destructive, most powerful antithetically opposed to love political administration since WW2. And we saw the end of that administration, that reign of terror.
And now our job is to move through the horrible mess that they left the world and as we move through it to try to sow as many of the seeds of love…and justice..and equality, in the soil of this new world rising from the ashes of the old world…as we possibly can.
In a world that seems to have largely forgotten that the concept even exists!
Not an easy task at all. But….AN INCREDIBLY ESSENTIAL one.
And we show up everyday to do it.
Magnifico, mishima, Robyn, Ek, NPK and many many other "irregulars" wake up everyday and work hard for love. Every essay written here everyday is either about love or about countering hate. Everyone who participates here Brings The Love….in their own unique, and sometimes incredibly unconventional, way.
And I thank you for it.
And the planet thanks you for it. And the poor and oppressed and the children of future generations thank you for it.
We are FAR from perfect in our execution and even occasionally even in our intent. But then again, we are human. Humans ARE imperfect…or we wouldn't have to fight for Love in the first place!
But….We Fucking Try.
And that in itself is an immense and marvelous and wondrous thing, when we look around and see the task that has been chosen for us or that we have chosen. To see the world as it is today and to even TRY to bring more love into it IS a hard and Noble thing. In a world that constantly pounds on us and beats us down and INSISTS we surrender to despair or indifference or hate…WE still work to sow the seeds of Love.
And I guess that when it come right down to it, after two years, that IS what Docudharma has become. A place where a few imperfect humans do what they can how they can, to bring a little bit more love into the world….even though we are sometimes, lol, assholes in the process. But we DO try. And the importance of that can neither be fully appreciated, understood….or overestimated.
And I thank you…and love each and every one of you (yes even the assholes!) for trying.
PEACE!