( – promoted by buhdydharma )
Crossposted at Daily Kos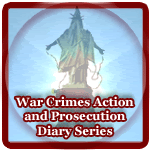 We are about to learn exactly what was going on and where under the Bush/Cheney "Extra-ordinary" rendition program.
Lawyers for Binyam Mohamed, who spent some seven years in US custody, five of them at Guantanamo, say that Jeppesen UK, a subsidiary of Boeing, has agreed to the presentation of evidence about the "ghost flights" it allegedly operated for the CIA – off-the-grid private jets that transferred terrorist suspects to sites where they would be tortured.
Binyam Mohamed, if you recall, had his genitals mutilated by either the CIA or one of the host countries where he was tortured.
Mutilating genitals.
What could possibly justify genital mutilation, or even the torture program itself? It's not like the Bush/Cheney Administration was above bald faced lying to us. In my opinion they did it because they can.
The Object of Torture IS Torture.
The Object of Power IS Power.
The good news that will come out of all of this is that we will finally learn exactly what was going on in these "Ghost flights". The who, the why, the where, all of that will be coming out soon, and hopefully that evidence can be used in future prosecutions of high level Bush/Cheney Officials
The why is obvious enough. The CIA under Bush/Cheney wanted to avoid due process, human rights laws and the chance of the press catching wind to what they were doing. It is very important to learn as much as we can about these War Crimes, because, as usual, the devil is in the details.
According to an article in the UK's Guardian, Jeppesen's decision not to block details of its alleged role in extraordinary rendition has "wide-ranging legal implications that could help expose which countries and governments knew the CIA was using their air bases to spirit terrorist suspects around the world."
Are you ready to see how deep the rabbit hole goes?
You see, Jeppsen is already looking at a lawsuit from the ACLU. Sadly, the Obama White House is doing what it can to cover up this whole ordeal from the prying eyes of the public, as can be evidenced by the highlighted quote below. I use the phrase cover up because it is certainly not transparency, and I attribute it to President Obama because that is where the buck stops.
All I want to hear is Obama say five simple words. "We. Will. Prosecute. Bush. Cheney."
The CIA has been secretly pressuring the British Government to help it cover up its use of torture, documents filed in the High Court have revealed.

The documents, to be discussed at a hearing this week, suggest that the UK authorities did everything they could to accede to the CIA's wishes while at the same time trying to conceal the fact they were talking to the agency.

~snip~

But the summary has been 'redacted' because Foreign Secretary David Miliband insists that if the court were to publish it, US intelligence agencies would cease to share information with Britain, so damaging UK security.

The court will make a final decision about publication after the hearing this week.

The only piece of evidence Mr Miliband's lawyers have produced is a letter, redacted, unsigned and undated, with its letterhead concealed, which, they say, summarises the views of US President Barack Obama's administration.
Hat tip to Inky99 who first covered this story here at Docudharma
I am disgusted and embarassed that first Spain and now the U.K. will begin looking into the criminal behavior of the Bush/Cheney Administration and the parties complicit to them before America itself does. I only hope that the Obama Administration will do everything in their power to bring our own war criminals to justice before America becomes the political laughing stock of the world. If we do not investigate and prosecute Bush/Cheney we will be the greatest banana republic on earth.
I will not leave matters this important up to mere hope.
Please, contact The White House, Attorney General Eric Holder and Congress and demand justice for these crimes.
You can contact Attorney General Eric Holder and demand accountability here
BY MAIL

U.S. Department of Justice

950 Pennsylvania Avenue, NW

Washington, DC 20530-0001


BY PHONE:

Department of Justice Main Switchboard – 202-514-2000



Office of the Attorney General – 202-353-1555

U.S. DOJ FAX number for AG Holder

FAX: (202) 307-4613

BY E-MAIL

E-Mail the Attorney Generals Office at [email protected]

Disclaimer: THIS E-MAIL ACCOUNT IS NOT AVAILABLE FOR SERVICE OF OFFICIAL, CASE-RELATED OR LEGAL DOCUMENTS AND IS NOT MONITORED FOR SUCH SUBMISSIONS OR FOR OTHER TIME-SENSITIVE COMMUNICATIONS. E-mails with attachments will be deleted because they may contain viruses.
You can Contact President Barack Obama's White House to demand accountability here
CALL The White House at 202-456-1111 and E-Mail the WH here
Tell the Democratic House of Representatives Leadership that you support H.Res 383 and want open public investigations of Bush/Cheney.



Contact Speaker of the House Nancy Pelosi [D-CA8] by E-Mail here

Or Call (202) 225-0100

Contact House Rules Committee chairman Rep. Louise Slaughter [D-NY28] by E-Mail here

Or Call (202) 225-3615

Be sure to mention that you want a closed rule that allows no amendments on H.Res 383 that leads to open, public hearings on the policies and War Crimes of the Bush/Cheney Administration.
Contact House Majority Leader Steny Hoyer [D-MD5] by E-Mail here

Or Call (202) 225-4131

Contact House Majority Whip James Clyburn [D-SC6] by E-Mail here

Or Call (202) 225-3315

Contact H.Res 383 Sponsor Representative Barbara Lee [D-CA9] by E-Mail here

Or Call (202) 225-2661
Contact House Judiciary Committee Chairman Rep. John Conyers by E-mail here

Or Call (202) 225-5126

In order to truly move forward and make progress we must cleanse the stains left on our Democracy by the criminal and Corporatist Bush/Cheney Administration and the Republican party. Every call, every e-mail, every time you use your voice you can make a difference.
Use your voice. YELL LOUDER!
For justice. That should be something worse yelling for.