simulposted at Daily Kos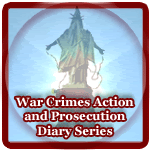 The women were passing messages out saying 'Please come and kill me, because of what's happened' and basically what happened is that those women who were arrested with young boys, children in cases that have been recorded. The boys were sodomized with the cameras rolling.

~snip~

It's going to come out."
I've referenced this this before, but this quote haunts me in my sleep.
Please, send an e-mail or call Attorney general Eric Holder. He is said to be strongly leaning towards naming a Special Prosecutor, let's give him a little push in the right direction!
And the worst above all of that is the soundtrack of the boys shrieking that your government has. They are in total terror. It's going to come out."
There are people who will defend this. Terrible people.
It is going to come out.
95 percent of the 10,000 women among them have been raped. Children, he said, "suffer from torture, rape, (and) starvation" and do not know why they have been arrested. He added the children have been victims of "random" arrests "not based on any legal text."
This is the END.
The people who support torture and defend torturers are the same people comparing Obama to Hitler.
This is the END.
Karpinski testifies that she visited cell blocks 1A and 1B regularly (AG 80, 89); that AGP housed juveniles detainees, including a detainee who "looked like he was 8-years old." The juvenile told her that "his brother was there with him, but he really wanted to see his mother, could he please call his mother. He was crying"
The same people who ignore totalitarian Christian cults, who deny climate change, who use race charged tactics to gin up fear in impoverished white communities, who deny the need for affirmative action, who deny the President's legitimate American citizenship, who defend capitalism and fear above all things against civil rights, equal rights and the right to form a union, the guys who war monger and wave patriotism in your face, that guy is going to say their not bringing in fascism, but we are.
They are fully supported by a corrupt, partisan Corporate media.
The people who would justify torture and fight empathy.
Those people, that party say Obama is a fascist who wants a CT something something.
This is the END.
Brigadier General Janis R Karpinski: "The secret here is getting these people released, and we're holding innocent people out there. "

And General Wodjakowski turned around and said to me " I don't care if we are holding 15,000 innocent civilians! We are winning the war! "
Conservatives fear change above all things. The whole precept is to lock the world into the Matrix moment of perfection a second after Reagan was inaugurated and freeze it permanently.
This is the END.
Of either the GOP, or America.
On a couple of occasions, I entered interview rooms to find a detainee chained hand a foot in a fetal position to the floor, with no chair, food, or water. Most times they had urinated or defecated on themselves and had been left there for 18 24 hours or more. On one occasion, the air conditioning had been turned down so far and the temperature was so cold in the room, that the barefooted detainee was shaking with cold. . . . On another occasion, the A/C had been turned off, making the temperature in the unventilated room probably well over 100 degrees. The detainee was almost unconscious on the floor with a pile of hair next to him. He had apparently been literally pulling his own hair out throughout the night.
The entire future of American history hinges upon the decision of Attorney General Eric Holder and the Democratic Leaders of Congress. We Must investigate The Cheney/Bush Administration for war crimes and their policies for being Un – Constitutional.
If we do not do this, as a Nation, and fight through the battle with evil ahead, if we choose to ignore massacres, if our Executive Branch or their cronies are above the law, and nothing they do is illegal, than their is no freedom, only Oligarchy.
This is the END
No Excuses
Contact Information link here for Attorney General Eric Holder, President Obama and The Democratic Leadership in the House of Representatives. Demand justice today!
YOU ARE LOOKING RIGHT AT THE ATTORNEY GENERAL CONTACTS INFORMATION
SEND A FRIGGIN E-MAIL ALREADY!!!!!
No excuses
BY MAIL

U.S. Department of Justice

950 Pennsylvania Avenue, NW

Washington, DC 20530-0001


BY PHONE:

Department of Justice Main Switchboard – 202-514-2000



Office of the Attorney General – 202-353-1555

U.S. DOJ FAX number for AG Holder

FAX: (202) 307-4613

BY E-MAIL

E-Mail the Attorney Generals Office at AskDOJ@usdoj.gov

Disclaimer: THIS E-MAIL ACCOUNT IS NOT AVAILABLE FOR SERVICE OF OFFICIAL, CASE-RELATED OR LEGAL DOCUMENTS AND IS NOT MONITORED FOR SUCH SUBMISSIONS OR FOR OTHER TIME-SENSITIVE COMMUNICATIONS. E-mails with attachments will be deleted because they may contain viruses.
At this crucial moment in History, Attorney general Eric Holder is the one man who has the power to save America from the fascist, insane GOP and Christian Conservative Oligarchy. Our future depends on him.
Yell Louder. We have everything to lose.
Will this be the end, or the beginning of CHANGE?
That depends on you.