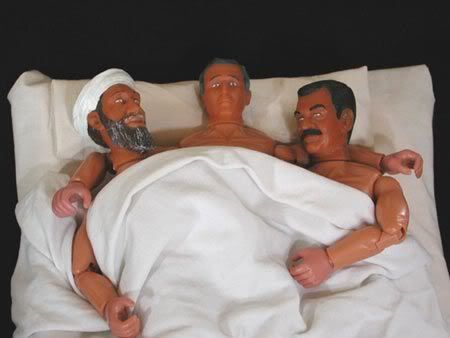 This from the Lubbock Avalanche Journal on July 25, 2009:
…More than 40 Texas Tech professors have objected in a petition to Chancellor Kent Hance's decision to hire former U.S. Attorney General Alberto Gonzales, according to the petition's creator…
To see the article for yourself, you can go here.
According to a relevant wikipedia article: "…Hance claimed Bush was 'not a real Texan' because of his privileged upbringing and Yale education. Hance won by seven points – the only time Bush was ever defeated in an election. Hance later said in an interview that after that election, Bush vowed that 'he wasn't going to be out-Christianed or out-good-old-boyed again,' and developed the folksy image that eventually carried him to the White House…" You can see it for yourself here.
An additional article about George W. Bush by Nicholas Kristoff includes a couple of humorous anecdotes about George W. Bush's earliest efforts in the political arena, before the Corporate Media had comfortably burrowed themselves within the cozy confines of W's hip pocket. A couple of excerpts:
Kent Hance, the Democratic candidate and a smooth-talking good old boy, was telling a yarn about working in a field along a rural road. Then along came a fancy car.

What might be unusual about this arrangement, you may ask?

A little history…

After serving as a Texas State Senator from 1973-1978, Mr. Hance ran as the Democratic candidate for U. S. Representative in the Texas 19th Congressional District. His opponent — George W. Bush.

"It was a Mercedes," drawled Mr. Hance, raising his eyebrows, and the audience tittered knowingly at the hint that Mr. Bush was the kind of man more comfortable in a Mercedes than a pick-up. "The guy rolled down the window and wanted to know how to get to a certain ranch."

Mr. Hance recounted how he'd given the man directions, telling him to turn right after a cattle guard, a metal grate ubiquitous in rural roads to keep livestock from straying. "Then," Mr. Hance continued, "he said, 'what color uniform will that cattle guard be wearing?' "

The audience roared with laughter, and just to be sure that the voters got the connection with the Connecticut-born Mr. Bush, Mr. Hance said he had noticed something else about the Mercedes: "It had Connecticut license plates."
And…
For example, there was the day, early in the campaign, at a candidate forum on a farm near the town of Dimmitt. "Today is the first time I've been on a real farm," Mr. Bush said, beaming at the crowd.

Mr. Reese, who was next to speak, began by saying: "I want to assure you, this is not the first time I've been on a real farm."
And, finally…
Then there was the TV commercial Mr. Bush dreamed up to demonstrate how energetic he was: it showed him jogging on a track. In those days, joggers were about as common in West Texas as Martians.

"The only time folks around here go running," Mr. Hance, the Democratic candidate, told audiences, "is when somebody's chasing 'em."
To see Kristoff's enlightening and at times amusing article for yourself, go here.
After serving three consecutive terms in the House, Mr. Hance decided not to run for re-election in 1984. He then made the relatively small leap from a conservative Democrat to becoming a Republican in 1985. His batting average in terms of running for office dropped considerably after that time, although he did win election to the Texas Railroad Commission in 1988, riding the presidential coattails of Bush's daddy.
In keeping with his reincarnation as a born-again Republican, according to the book "Shrub", written in 2000 (prior to the November election) by the late Molly Ivins and Lou Dubose:
"…His new party affiliation — and his stake in a waste disposal company with designs on a private nuclear waste dump in West Texas — led him to contribute $20,000 to Bush's two gubernatorial campaigns. Hance also signed on as a Bush Pioneer, committed to raising $100,000 for the presidential campaign. Local handicappers think he hopes for an appointment to the Department of Energy…"
And now Hance appoints one of George W. Bush's best buddies to a sweetheart job at Texas Tech? One might feel compelled to inquire, "What is the payoff for Hance?"
When Winston Churchill spoke of "a riddle wrapped in a mystery inside an enigma" could he have possibly been referring to Texas politics?