( – promoted by buhdydharma )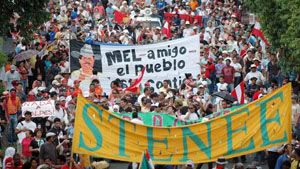 An estimated 20,000 protest the coup
Well, well, well. The 3-day waiting period is over. And guess what? Nothing's changed, not really. The coup remains defiantly in power, the coup is withdrawing from OAS, Manual Zelaya is still in Costa Rica, his ministers are still in hiding in Honduras, the press is still embargoed. And demonstrations by both sides continue. For now, it's apparently a standoff. Diplomacy seems not to have made a change; next is economic sanctions.
The demonstrations in support of democracy have grown. El Tiempo reports:

El verdadero pueblo está en las calles apoyando al presidente en el exilio, Manuel Zelaya Rosales, aseguraron ayer más de 20.000 manifestantes que protestaron por la restitución del mandatario.

La marcha, una de las más numerosas que los simpatizantes de Zelaya Rosales han efectuado desde el domingo pasado, día en que se perpetró el golpe de Estado en su contra, paralizó en un principio el Bulevar Juan Pablo II desde horas de la mañana….

Seguidores de Zelaya Rosales aseguraron que ellos son la voz del pueblo.

a multitudinaria manifestación en apoyo a Manuel Zelaya compitió paralelamente con la concentración de quienes están del lado del actual gobierno, sin embargo, ambas estuvieron muy parejas en cuanto a la cantidad de participantes.
There were, of course, large pro-golpista demonstrations as well.
The New York Times is glum:
Honduras' refusal to restore ousted President Manuel Zelaya despite an appeal by the top envoy for the Americas has put the impoverished nation on a collision course with the world community that could lead to its isolation.

Honduras said it would no longer recognize the Organization of American States charter, claiming the diplomatic body attempted to impose "unilateral and indignant resolutions" on the new government, which took power a week ago in a military-backed coup and forced Zelaya into exile.

OAS chief Jose Miguel Insulza had demanded Zelaya be restored to office, and on Saturday the organization was to discuss suspending the Central American nation's membership. But Honduras' interim president, Roberto Micheletti, said "the OAS is a political organization, not a court, and it can't judge us," according to a note to Insulza read on Honduras' television Friday night.

The move means Honduras, one of the poorest countries in the Americas, will leave the OAS and will not face sanctions by the organization, though it would not prevent other groups and countries from suspending aid and loans.

Nations around the world have promised to shun Micheletti. Neighboring countries have imposed trade blockades, the United States has halted joint military operations and European Union ambassadors have abandoned the Honduran capital. The World Bank already has suspended $200 million in financing, and the Inter-American Development Bank has put $450 million on hold.
Unfortunately, it's unclear whether the golpistas care about any of this. It depends on whom the burden from the loss will fall. If the burden falls primarily and disproportionately on Honduras's poor and not on the oligarchy, the sanctions will matter little to the coup. Only if the sanctions seriously impact the oligarchy, will they be an impetus to the restoration of democracy.
And the US? Will it withdraw its ambassador? Will it cut off all non-humanitarian aid? Apparently this is in the works.
The U.S. Embassy issued a statement Friday expressing "deep concern over restrictions imposed on certain fundamental rights" by Micheletti's government, including a curfew and "reports of intimidation and censorship against certain individuals and media outlets."
Military cooperation has already been suspended. And so was US Aid last week. Here's the official description:
The State Department said Thursday it has put much of the U.S. aid program to Honduras on hold pending a legal determination as to whether the overthrow of elected President Manuel Zelaya last Sunday requires an aid cut-off. The United States meanwhile is cautioning Mr. Zelaya against an early attempt to return home.

The State Department's legal team will probably determine that the overthrow of President Zelaya does fit the definition of a military coup, thus mandating a U.S. aid cut-off.

In the meantime, State Department Spokesman Ian Kelly said Thursday the Obama administration has effectively frozen those parts of the U.S. aid program – mainly military and non-humanitarian assistance – that would be covered by an aid cut-off.
Put simply, the money is on hold until a determination is made.
And in the meanwhile, it's not at all clear what can be done to hasten the restoration of democracy in Honduras.
For my part, I support the restoration of democracy in Honduras, and I oppose the golpe de estado. I oppose the arguments made by coup apologists and from the oligarchy diaspora.
I say as loudly as I can, "Fuera golpistas!"
————————————–

cross-posted from The Dream Antilles