( – promoted by buhdydharma )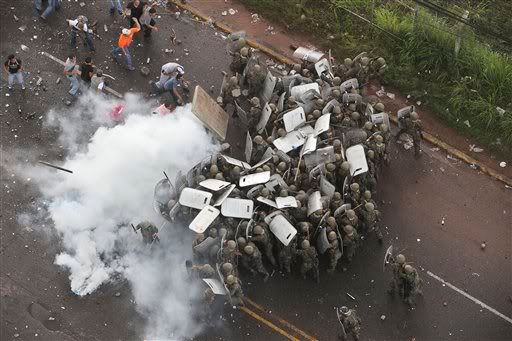 Honduran police clash with pro-democracy demonstrators
The military coup that deposed Honduran President Manual Zelaya has been denounced by almost everyone except the Honduran military. President Obama said about it, "We stand on the side of democracy, sovereignty and self-determination." The OAS has condemned the coup. ALBA has condemned the coup. The UN General Assembly has condemned the coup. Central American nations have sealed their borders with Honduras. Most (except El Salvador) have also withdrawn their ambassadors. Roads are blocked in the country.
Police and soldiers clashed with pro-Zelaya protesters in the capital on Monday, and about 5,000 anti-Zelaya demonstrators gathered at a main plaza in Tegucigalpa on Tuesday to celebrate his ouster.
What is to happen next appears to be a confrontation, a face-off between the deposed President and the military coup that arrested and deported him.
Earlier today it was reported that President Zelaya will return to Honduras on Thursday:
Ousted Honduran President Manual Zelaya has announced that he will return to Honduras on Thursday. "I'm going to finish my four-year term, whether or not you coup leaders are in agreement," he stated.

Zelaya will return to Honduras accompanied by the Secretary General of the Organization of American States (OAS), José Miguel Insulza, and a commission of Latin American presidents. The Argentine government has announced that its President Cristina Fernandez will accompany Zelaya to Honduras as part of the presidential commission. In a press conference following his speech to the United Nations General Assembly, Zelaya stated that Ecuadoran President Rafael Correa will also accompany him.

Colinas, Santa Barbara, Mayor Amable de Jesus Hernandez told TeleSUR that citizen caravans were being organized to travel from his region to the capital of Tegucigalpa on Thursday to receive President Zelaya.
Initially, earlier today, the return of the deposed president and other officials wasn't supposed to be a direct confrontation with the military forces that arrested and forcibly deported him to Costa Rica:
Reports in Honduran and international press that interim President Roberto Micheletti says that "if Zelaya sets foot on Honduran soil he will be arrested" are overblown, thanks in large part to a provocative headline in that regard published by Colombia's Radio Caracol. Yes, Micheletti has stated that Honduran courts have issued arrest warrants against Zelaya, but thus far he has not definitively stated that his forces will attempt to arrest Zelaya…

The [Radio Caracol] interviewer asked Micheletti how he planned to respond in the event that Zelaya … returned on Thursday. Micheletti responded: "My country's courts have arrest warrants against him for breaking the law." He then went on to explain his case for why Zelaya had broken the law when he attempted to carry out a public opinion poll on forming a new constitutional convention to draft a new constitution. Micheletti never told Radio Caracol that his government planned to act on the aforementioned arrest warrants.
Be that as it may, by later in the day, Micheletti wasn't so circumspect. In an interview with The Washington Post, Micheletti made an overt, explicit threat to arrest Zelaya if he returned to Honduras:
"If he comes back to our country, he would have to face our tribunals and our trials and our laws," Micheletti said in an interview with The Washington Post late Monday night at his residence in the hills overlooking the capital. "He would be sent to jail. For sure, he would go to prison." …snip

The new Honduran president said he did not see any way to negotiate with the Obama administration and international diplomats seeking a return of Zelaya to power because Micheletti insisted that Zelaya was guilty of crimes against the country.

"No, no compromise, because if he tries to come back or anyone tries to bring him back, he will be arrested," Micheletti said.
That's clear enough. Micheletti has unequivocally stating that Zelaya will be arrested. And so on Thursday, when Zelaya and his supporters return to Honduras, there will be a confrontation, a face off in Tegucigalpa. On one side, the coup's president, Roberto Micheletti, the parts of the Honduran military that support him, his citizen supporters from the upper classes; on the other, Manual Zelaya, the international leaders who support his claim for the restoration of democracy in Honduras, the masses of people in the Hemisphere's second poorest country. Will the military coup dare to arrest Zelaya and insult the regional leaders who accompany him?
I know which side I'm on. I know what side I hope you're on.
I want to be in solidarity with the restoration of democracy and the overturning of this military coup.
It's not clear what we as individuals can do to help restore Democracy in Honduras. Again, as individuals it's only the small things we can do. We can watch the news from Honduras, we can spread this story, we can ask our Traditional MediaTM to report it (it's not on the front page of the New York Times or CNN or MSNBC as I write this), and we can discuss among ourselves how we can eventually be of actual help to our brothers and sisters and their struggle in Honduras.
I know this isn't much. But it's only right that we support this struggle for democracy and oppose the military coup. We supported democracy in Iran, halfway around the world. We should be supporting democracy at least as strongly in our own backyard.
cross-posted from The Dream Antilles