( – promoted by buhdydharma )
It really gets to me, this story of the Chinese Uighers. Wrongly imprisoned (long story), homeless, stateless. Nowhere on the planet will take them in.
On the entire planet. Can you imagine? The whole entire planet!
Until now. Maybe. Because it must still be Backwards Day.
UPDATE: Bermuda takes four, see below.
Another UPDATE: intersting article Uighers face culture shock going to Palau which aso has this hidden tidbit within: "Raxit added that China probably won't allow the Uighurs' families to visit or join them, so the men will experience intense isolation and loneliness."
It looks like they might be getting an all-inclusive, all expenses paid, trip to my idea of paradise. How bout them apples? Roughly an eight hour plane ride further west than Honolulu, they may land in Palau, in the South Pacific: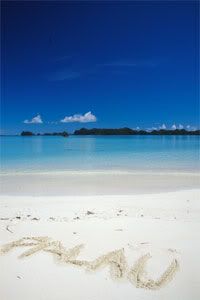 Palau offers you the world's most beautiful tropical paradise. Famous for its diving, Palau is rated as one of the world's best diving destinations by scuba aficionados. And why not…Palau has unspoiled reefs, caves, and walls with the most amazing array of marine life you can ever imagine.

Palau beckons to you with some of the world's most awesome natural wonders. Imagine the whitest beaches you will ever see, gardens of coral just beneath the clearest waters, lakes filled to the brim with "sting less" jellyfish. Forests, waterfalls and caves that have never been ravaged by man, and hundreds of islands of the purest beauty abound all along our pristine archipelago.
Maybe we could set up a little Docudharma Outpost there. They even have three, count them, three, internet cafes there!
They have a decent website actually and important details that sound welcoming to me! (typical American…!)
Currency & Credit Cards :

The official currency of the Republic is the U.S. Dollar. Visa, JCB, Master Card, and American Express cards are widely accepted at stores and visitor facilities. There are FDIC insured banks and major hotels with limited foreign currency exchange. In addition, Palau has money transfers such as Western Union or through Bank Institution.

Customs, Immigration & Health Requirements

One (1) bottle of liquor and one (1) carton of cigarettes can be brought into Palau duty-free. Importation of controlled substances and weapons is strictly prohibited. Travelers must have valid Passport.
And this… this seals the deal for me.
Climate

Palau enjoys a pleasantly warm climate all year round with an annual mean temperature of 82° degrees F. (27° C.). Rainfall can occur throughout the year, and the annual average is 150 inches. The average relative humidity is 82%, and although rain falls more frequently between July and October, there is still much sunshine. Typhoons are rare as Palau is located outside the typhoon zone.
There's also more info from various sources, but Ill add this one which fills in with a bit more:
So why is Palau willing?

For one, the superpower in its corner: the US, for which Palau was actually a trust territory until it gained independence in 1994. The US still gives Palau significant foreign aid and has guaranteed its security until 2044. The two countries are so close that native-born Palauans can enter the US without a passport or visa. Palau also uses the US dollar as its currency. Last month, Secretary of State Hillary Rodham Clinton called the tiny nation one of America's "staunchest allies."

~snip~

Palau will also receive $200 million in development and other aid as thanks for taking in the Uighurs, according to two US officials speaking to the AP on the condition of anonymity. A senior State Department official quoted in The New York Times rejected the idea that the money was a quid pro quo.

Whatever the cause, it's a generous sum, especially for a country with the population of a typical American suburb (about 20,000 people) whose gross domestic product barely tops $167 million.

Of course, Palau has experience in defying China: It's one of just 23 nations that still recognizes Taiwan, the island that China considers part of its territory. Over the decades many countries have severed diplomatic ties with Taiwan and thrown their weight to the People's Republic of China instead.
So. What do you think?
I wonder what the Uighers themselves think.
Read more from Andy Worthington's piece today and think about this.
In October, Judge Urbina ruled, very sensibly, that the Uighurs were to be allowed to resettle in the United States, in the care of the large Uighur community in and around Washington D.C. and in a community in Tallahassee, Florida that had gone out of its way to help them.

Judge Urbina made his ruling for four very good reasons: firstly, because the government had been persuaded to drop all its charges against the Uighurs (after the most humiliating court defeat, last June); secondly, because they cannot be returned to China, where they face torture or worse: thirdly, because no other country had been found that was prepared to take on China by accepting them: and fourthly, because their continued detention in Guantánamo was, simply, unconstitutional.

Having somehow skipped the class that would have informed them that rocking boats is sometimes required in politics, senior officials in the Obama administration refused to order the men's release into the United States in those first few halcyon days in office, when anything seemed possible, and have now vacillated to such an extent – most recently, apparently, when Rush Limbaugh started barking – that releasing them into the US is simply too much to contemplate, even though it clearly remains the right thing to do.
After all,…
Four years ago US authorities cleared the Uighurs, but they have been stuck at the US-run prison in Cuba due to fears that Beijing would torture them if they returned to their homeland in northwestern China's Xinjiang region.

In October 2008, a federal judge had ordered the Uighurs released in the United States, but that ruling was overturned on appeal in February.

The Uighur detainees have been in limbo since the Obama administration asked the US Supreme Court to reject a request by the Uighurs to be released on US soil.
Gitmo, and the Uighers' fate is still very much a political hot potato, although I give them points for at least trying (more than anyone before now has done). But … Palau? ? ?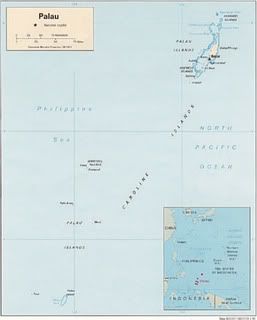 Will these known to be innocent men finally be released and permitted to live their lives? Will they be able to go on about any kind of normalcy, ever? Will they be re-united with their families and loved ones? Can they enjoy the freedoms we often take for granted, like I don't know… shopping? how bout praying in a place of worship of their choice? Here's the only Church listed on the island's tourism site:
Palau Baptist Church: We are an independant, family-oriented baptist church with 14 different cultures. A great place to study the Bible with friends.

Mmm'kay.
Wonder if they are into diving, sportfishing or maybe they will want to join The Rotary Club there. Hmmm.
Well. I wish them the best.
Larger question is… will we, the good ol' US of A, ever get our soul back?
Worthington's closing remark:
Could this, then, be the answer to the Obama administration's Uighur problem? Perhaps, but if so, it will demonstrate only that, when it comes to cleaning up the mess that is Guantánamo, cowardice, desperation and the least enviable form of pragmatism available are yet another example of Bush and Cheney's despicable legacy.
06/11/09 UPDATE: Bermuda
link theres several more if you google it, )including one from NYT which reports that the Chinese gov is protesting)
WASHINGTON-Four men belonging to the mostly Muslim Uyghur ethnic group and held by the United States at Guantanamo Bay for more than seven years have been released and landed early Thursday on the North Atlantic island of Bermuda, Uyghur sources and the U.S. Justice Department said.

The four men, part of a larger group of 17 Uyghurs detained after the 2001 terrorist attacks on the United States, landed on the tiny North Atlantic island at about 5:30 a.m., according to Ilshat Helenian, vice president of the Uyghur American Association.

In a written statement, U.S. Attorney General Eric Holder said,

"By helping accomplish the president's objective of closing Guantanamo, the transfer of these detainees will make America safer."

"We are extremely grateful to the government of Bermuda for its assistance in the successful resettlement of these four detainees, and we commend the leadership they have demonstrated on this important issue."

The four released men were identified as Abdulla Abduqadir, 30; Helil Mamut, 31; Ablikim Turahun, 38; and Salahidin Ablehet, 32. The remaining 13 Uyghurs are believed to have remained at Guantanamo, and their fate wasn't immediately clear.

The Pacific island of Palau agreed this week to temporarily take in up to 17 of the men.