(noon. – promoted by ek hornbeck)
"Springtime" continues, as "BIA Hopi Agency Police and Rangers are patrolling this region (Big Mountain) where a few traditional elders continue to live and also resist federal mandates to relocate."

Obama: Stop the Peabody Mine Expansion on Black Mesa

As we speak, there exist a state of fear and anxiety in a traditional community at Big Mountain in the heart of Black Mesa. And as we speak, the federally deputized officers of the BIA Hopi Agency Police and Rangers are patrolling this region where a few traditional elders continue to live and also resist federal mandates to relocate.

Crossposted at Native American Netroots
First of all, I suggest readingAmerica's West Bank (Edited and New Info.) for an overview of the dire situation, if you're unfamiliar with it. I'll say what I want to at the very end.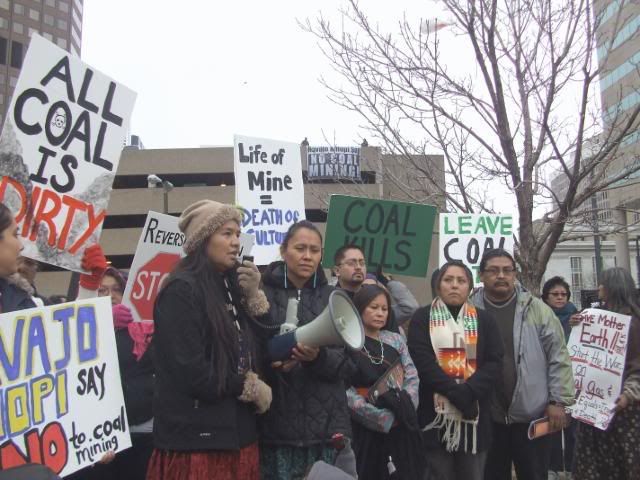 Dineh resister and elder, Pauline Whitesinger, has stood her ground since 1977 when the BIA tried to build a range unit fence within the lands partitioned to the neighboring tribe, the (modern and progressive) Hopis. Pauline still believes in the old ways by upholding aboriginal rights and treaty rights and because of BIA-Hopi restriction on new contruction and her deteriorating ceremonial hogan, she replaced and rebuilt a new hogan. The BIA Indian police are constantly taken photographs of her residence, her neighbors that come to see her, her non-Indian volunteer helpers, and her grandchildren that come to visit. The police do not attempt to talk to her or answer to her concerns and requests.


This area known as the Hopi Partitioned Lands still has Dineh residents and has been made an isolated area, and this is allowing the federal government to do as they please with these last, traditional peoples. Navajo Nation President Joe Shirley, Jr. has even made numerous comments that the Dineh resistance at Big Mountain "a lost cause and a closed case" meaning that these Dineh are to never be thought of, again. Meaning that these Dineh, who are my Big Mountain relatives, need to be erased from the state of the Navajo Nation and perhaps, Pauline is right when she says, "we are in way of Peabody, profit, revenues, and industrial jobs."

It's high time that Barack Black Eagle, which means ""one who helps people throughout the land -" lives up to his name.

Dear Mr. President Barrack Obama, and

Madame Secretary of State, Hillary Clinton,

Copies to:

Mrs. Katherine Smith & Mrs. Pauline Whitesinger, Big Mountain Sovereign Dineh,

Selected Kimongwis of the Independent Pueblo of Hotevilla,

Mr. William Means & Ms. Andrea Carmen, International Indian Treaty Council,

President Joe Shirley, Jr., The Navajo Nation,

Mr. Roman Bitsuie, The Navajo-Hopi Land Commission,

Office of the Hopi Tribe's Office of Hopi Lands,

Department of the Interior, Bureau of Indian Affairs, Phoenix Area Agency

Department of the Interior, Office of Surface Mining

REPEAL "THE NAVAJO-HOPI LAND SETTLEMENT ACT OF 1974" (P.L. 93-531): IT ENFORCES THE METHODS OF GENOCIDE BY POPULATION REMOVAL AND COAL MINING EXPANSIONS


And after he repeals the Relocation Act, he should sign the Declaration on the Rights of Indigenous Peoples, to help ensure that it never happens again.
If that upsets people enough that it ends up on his desk, then good.