(10 am. – promoted by ek hornbeck)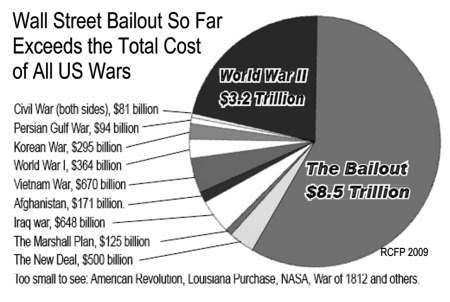 Casey Research, of Vermont, has analyzed the costs of the government bailouts of the housing crisis, the credit crisis and others and has concluded that the total is $8.5 trillion, which is more than the cost of all US wars, the Louisiana Purchase, the New Deal, the Marshall Plan and the NASA Space Program combined. According to CRS, the Congressional Research Service, all major US wars (including such events as the American Revolution, the War of 1812, the Civil War, the Spanish American War, World War I, World War II, Korea, Vietnam, Iraq and Afghanistan, the invasion of Panama, the Kosovo War and numerous other small conflicts), cost a total of $7.5 trillion in inflation-adjusted 2008 dollars.
http://www.rockcreekfreepress….
hat tip to Ilargi.