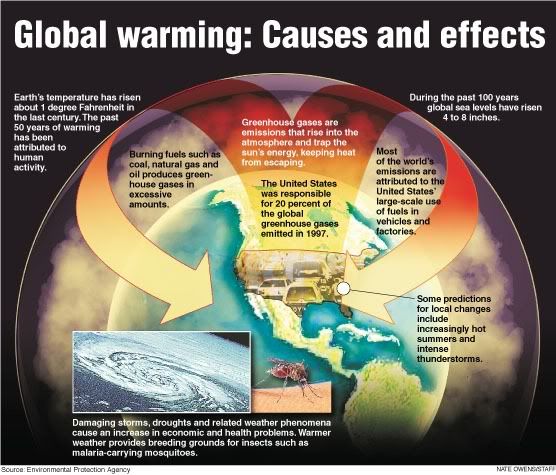 Tuesday in Beverly Hills, California, hundreds of attendees gathered from more than 50 states, provinces and countries at a "Governors' Global Climate Summit" hosted by Gov. Arnold Schwarzenegger at the Beverly Hilton Hotel. The summit continues through today.
According to Environmental News Service:
The summit has already led to a signed agreement between U.S. governors and governors from Brazil and Indonesia to reduce forestry-related greenhouse gas emissions. It is the first state-to-state, sub-national agreement focused on reducing emissions from deforestation and land degradation.

"Tropical deforestation accounts for 20 percent of all human-caused carbon emissions in the world, and the governors signing these MOUs with us manage more than 60 percent of the world's tropical forest lands," Governor Schwarzenegger said.

"With this agreement, we are focusing our collective efforts on the problem and requiring our states to jointly develop rules, incentives and tools to ensure reduced emissions from deforestation and land degradation," Schwarzenegger said. "We are also sending a strong message that this issue should be front and center during negotiations for the next global agreement on climate change."

The agreement commits the U.S. States of California, Illinois and Wisconsin to work with the governors of six states and provinces within Indonesia and Brazil to help slow and stop tropical deforestation, the cutting and burning of trees to convert land to grow crops and raise livestock, and land degradation through joint projects and incentive programs.

It was signed by Governor Antônio Waldez Góes da Silva, Amapa, Brazil; Governor Eduardo Braga, Amazonas, Brazil; Governor Blario Maggi, Mato Grosso, Brazil; Governor Ana Júla de Vasconcelos Carepa, Para, Brazil; Governor Yusof Irwandi, Aceh, Indonesia; and Governor Barnamas Suebu, Papua, Indonesia.

…

The summit is intended to create opportunities for consensus on climate issues ahead of next month's UN climate change conference in Poland where governments will work towards a climate accord to take effect after the Kyoto Protocol expires in 2012.
Barack Obama will not be attending the conference in Poland next month since he will not take office as President until January, "but he has asked members of Congress who are attending the conference as observers to report back to him on what they learn there", the ENS report says, and Obama did record a message to the summit attendees, which was posted on Change.gov yesterday.
UPDATE: A Siegel has posted the video of Obama's message to the conference, with a great point by point analysis of what Obama had to say, here this morning in his essay Obama speaks out against Global Warming. Be sure to check it out.
Jake Schmidt writing at The Environmentalist yesterday hailed Obama's statements with:
Now the hard work will begin to engage with Members of Congress to adopt a cap on US global warming emissions, invest in creating new green jobs, and delivering a global response to the challenge. This is a great positive signal to the world that he will restore America's leadership as leaders from around the world were calling for him to do. So, a little momentum is building towards the global agreement to be reached in Copenhagen in December 2009.
Jake Schmidt is the International Climate Policy Director at the Natural Resources Defense Council where he helps to develop the post-2012 international response to climate change (for more information see his blog).