( – promoted by buhdydharma )
In a couple of weeks, we'll mark the sixth year anniversary of the death of Paul and Sheila Wellstone.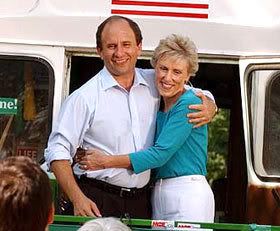 I get emotional every year at this time…missing them and the way they fought for us with such integrity. This year is no different.
But yesterday I learned something that makes those memories all the more poignant for me. Buried in the midst of the bailout package, was final passage of the Paul Wellstone and Pete Domenici Mental Health Parity and Addiction Equity Act of 2008.
Here's what David Wellstone, Paul and Sheila's son, said about it from Wellstone Action.
"This bill is a major achievement, one I know my dad would be proud of," said David Wellstone. "This bill will go a long way to ease the pain and suffering of those with mental illness and addiction, and I am proud to have been part of this effort. It's a great day."
And here's a bit about what the bill does.
The Paul Wellstone and Pete Domenici Mental Health Parity and Addiction Equity Act of 2008 is a major step forward to end discrimination in insurance coverage for people with mental illness and substance abuse disorders. The legislation states that insurance plans may not place arbitrary and discriminatory restrictions on mental health and addiction coverage as compared to medical/surgical coverage. Millions of individuals and families have been affected by the inability to access equal coverage for mental health and addiction care.
Many of you might know that Paul had a brother with a mental illness. He spent his youth seeing the horrors of how this disease was treated and watching his family have to spend themselves into financial ruin for treatment. We all know that the Wellstones saw the battles that poor and working class people fought every day and they battled right along with us on just about every front to make things better in this country. But, as David Wellstone said on Minnesota Public Radio in an interview here, no issue was more personal to him than this one. A whole host of committed people had been working on this for 12 years.
In 1996, Wellstone teamed up with Sen. Pete Domenici, R-N.M., to win passage of a law that banned plans from setting lower annual and lifetime spending limits for mental health treatments. The new law builds on that by banning differences in things like co-payments, deductibles and treatment limitations…

David Wellstone, who lives in Santa Cruz, Calif., said he initially thought that Congress would pass mental health parity in the final weeks of the 2002 session, as a tribute to his father.

"There were a ton of commitments that were made in his name," he recalled. "Then the reality set in. This process has been one of the most up-and-down things I've ever been through. There were times I went to bed feeling great, only to wake up to feel like the rug had been pulled out."
This week…it finally happened after twelve years. I don't expect that this makes passage of the bailout bill any more acceptable to any of us. But I'd still like to celebrate the life and work of Paul Wellstone that is signified in this important step.
And in my discouragement about all the other mess that's going on, I want to remember Paul and how hard he fought, every day, and never gave up. If you'd like a little shot in the arm to help you keep on keeping on, take 6 1/2 minutes and watch this tribute that was made last year.