(9 am. – promoted by ek hornbeck)
cross posted from The Dream Antilles
It looks like Hurricane Gustav (it's now a hurricane and not a tropical storm) is headed directly for New Orleans. Weatherunderground gives us computer modeling that is not at all comforting: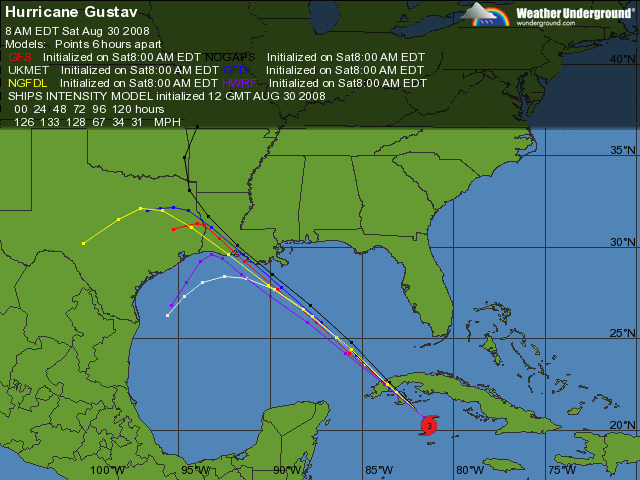 Notice the uniformity of all of the computer models. Notice that the computers bring Gustav extremely close to New Orleans as a category 3 hurricane.
Join me in the City that Care Forgot.
The New York Times reports that there will be a "mandatory evacuation" of New Orleans on Sunday:
Mayor C. Ray Nagin said on Friday that a mandatory evacuation order was possible for Sunday.

At that point, residents would be told, though not physically forced, to leave New Orleans, either in their own vehicles or on city-chartered buses and trains. On Saturday, officials here will start helping citizens without cars leave for shelters in northern Louisiana in gyms, churches and civic centers. Officials here estimate that as many as 30,000 of the poor, the elderly and the infirm might need help evacuating. …snip

"With the new storm track, we think the entire metro area will experience the storm," the mayor said at City Hall on Friday. "This is a very serious matter."

Mr. Nagin urged citizens to begin making plans to evacuate, without waiting for the order. "Sunday morning, that's what we're looking at, to issue that mandatory evacuation," he said.

There will be no shelters in the city like the Superdome, as there were for Hurricane Katrina.
Such an evacuation is an enormous task. If there have been practice runs, the media have not reported them. Is anyone confident that all of the people who wish to leave the City will be able to leave? Or put another way, will those who most need assistance to leave be able to receive the help they need to find shelter from the storm?
According to the Times Picayune, Gustav is on a "Collision Course" with New Orleans, and as of early Saturday morning, many people were headed inland for shelter:
Those who cannot leave because they are ill, or have no cars, or have no place to go, or have no money will have to be moved today, Saturday, or wait for the mandatory evacuation and then attempt to leave by bus or by train. But it appears that not all of the necessary preparations for the evacuation have been successfully completed. The Times Picayune reports:
The private contractor the state hired to provide buses for hurricane evacuations has not come through with enough vehicles in a timely manner, causing the state to look elsewhere to meet the state's timeline for moving people out of New Orleans and other areas prior to the arrival of Hurricane Gustav, Gov. Bobby Jindal said Friday.

The state contracted for 700 buses with drivers to be made available in an emergency but has "run into challenges" with the primary bus contractor, the governor said during a news conference in Baton Rouge.

"The contractor is not necessarily doing what they promised to do, " Jindal said….snip

When asked about the problem in a phone interview Friday evening, company Chief Executive Officer Henry Gerkens initially said, "I'm not aware of that. I won't have any further comment, but that's not my understanding."
That is not the kind of news that builds confidence. At the last minute, the authorities are still trying to cobble together an evacuation. Nowhere do I see officials saying, "We are definitely ready. We definitely have the situation under control. We can evacuate everyone who may wish to leave the City before Gustav arrives."
Yet again, my heart goes out to the people of New Orleans. May they be safe. May they find shelter. May they be well.
Update: 8/30, 10:08 PM ET:

An evacuation has now been ordered. This from AP:
Spooked by predictions that Hurricane Gustav could grow into a Category 5 monster, an estimated 1 million people fled the Gulf Coast Saturday – even before the official order came for New Orleans residents to get out of the way of a storm taking dead aim at Louisiana.

Mayor Ray Nagin gave the mandatory order late Saturday, but all day residents took to buses, trains, planes and cars – clogging roadways leading away from New Orleans, still reeling three years after Hurricane Katrina flooded 80 percent of the city and killed about 1,600 across the region.

The evacuation of New Orleans becomes mandatory at 8 a.m. Sunday along the vulnerable west bank of the Mississippi River, and at noon on the east bank. Nagin called Gustav the storm of the century and told residents to "get your butts out of New Orleans now."

"This is the real deal, not a test," Nagin said as he issued the order, warning residents that staying would be "one of the biggest mistakes of your life." He emphasized that the city will not offer emergency services to anyone who chooses to stay behind.
I repeat: May all be safe. May all find shelter. May all be well.
Update (8/31/08 at 9:15 am ET): The New York Times says it all. The mayor is trying to get people to leave by discussing the storm's potential:
City officials ordered everyone to leave New Orleans beginning Sunday morning – the first mandatory evacuation since Hurricane Katrina flooded the city three years ago – as Hurricane Gustav grew into what the city's mayor on Saturday called "the storm of the century" and moved toward the Louisiana coast.

The mayor, C. Ray Nagin, said Hurricane Gustav was larger and more dangerous than Hurricane Katrina, and he pleaded with residents to get out or face flooding and life-threatening winds.

"This is the mother of all storms, and I'm not sure we've seen anything like it," Mr. Nagin said at an evening news briefing. "This is the real deal. This is not a test. For everyone thinking they can ride this storm out, I have news for you: that will be one of the biggest mistakes you can make in your life."

The mayor's warnings were considerably more dramatic than the forecasts issued by the National Hurricane Center, and he may have been exaggerating in order to shock jaded residents into taking prudent steps. But he said storm surges, particularly on the city's West Bank, could be twice as high as the neighborhood's 10-foot levees, and said those people choosing to remain in their homes should have an ax to chop through their roofs when the floodwaters rise.
Very scary.