Ok, so we have lost the Fourth Amendment. But take heart! In light of yesterdays wildly successful Dharmathon to help a friend in need, and the fact that McCain will undoubtedly continue Bush's policy of selling off America with the help of impoverished Democrats like poor Jay Rockefeller, all we have to do is be the highest bidder for the rest of The Constitution!!! Start saving your pennies Dharmaniacs!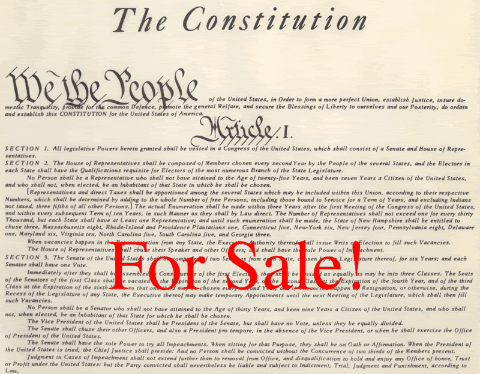 One of the benefits from the protracted battle over telecom amnesty is that it is a perfect microcosm for how our government institutions work. And a casual review of the available evidence regarding how telecom amnesty is being pursued demonstrates what absurd, irrelevant distractions are the pro-amnesty justifications offered by the pundit class and the Bush administration.

Just in the first three months of 2008, recent lobbyist disclosure statements reveal that AT&T spent $5.2 million in lobbyist fees (putting it well ahead of its 2007 pace, when it spent just over $17 million). In the first quarter of 2008, Verizon spent $4.8 million on lobbyist fees, while Comcast spent $2.6 million. So in the first three months of this year, those three telecoms — which would be among the biggest beneficiaries of telecom amnesty (right after the White House) — spent a combined total of almost $13 million on lobbyists. They're on pace to spend more than $50 million on lobbying this year — just those three companies.
Top Verizon executives, including CEO Ivan Seidenberg and President Dennis Strigl, wrote personal checks to Rockefeller totaling $23,500 in March, 2007. Prior to that apparently coordinated flurry of 29 donations, only one of those executives had ever donated to Rockefeller (at least while working for Verizon).

Democrats who switched from opposing to supporting legal amnesty to telecoms that aided the government's warrantless wiretapping program received twice as much money, on average, from telcom political action groups than Democrats whose opposed the idea in March…