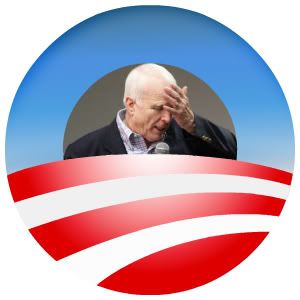 Image from SLdkos
John McCain comes in three flavors: red, white and…get off the d*mn lawn!
More jokes from the front lines of Obama-can vs. John McCan't…
I don't know what's more lonely, a pro-McCain blog or a Bob Barr telethon (it's a wrong number, but it still counts as a call!).

The photo on McCain's website looks like it should carry the caption: Now on sale at Big Lots: 3 Shirts for $3.99

McCain couldn't log onto his blog anyway becase he'd spend the entire night pressing "play" on his remote control.

McCain's photo on his donations link shows the Straight Talk Express Bus….leaving. [it does, actually]

McCain's blog has three selections when you log in: Supporter, Undecided or Unregistered voter. If you select Undecided or Unregistered, it hides all of his policies.

The photo on McCain's website looks like it should carry the disclaimer, "Ask your doctor if McCain is right for you."
Now with more flair! Notable quotables from our brothers and sisters at Free Republic, live blogging their reactions to McCan't's speech last night:
To: Right_in_Virginia

Why, oh WHY…does he always sound:

A) Angry

B) Like an automaton

***************************************

To: CAluvdubya

We are so screwed.

***************************************

To: MNJohnnie

accepting McLettuce is like being 9 years old and forced to eat your own cooking

***************************************

To: TADSLOS

Did you hear the news?

Obama's campaign got a new volunteer today. In keeping with his "maverick" credentials and his history of "reaching across the aisle" Senator John McCain endorsed Barack Obama for President today.

OK, not really but he might as well. He is Barack Lite.
For these and more insights into the activist right and their reaction to McCain's speech last night, check out the link: http://www.freerepublic.com/fo…
And…have at it. Open thread – and open season – for McCain jokes!