( – promoted by buhdydharma )
I want to tell you about my Faith this morning.

(mirriam webster)

Noun:

1 a: allegiance to duty or a person : loyalty b (1): fidelity to one's promises (2): sincerity of intentions

2 a (1): belief and trust in and loyalty to God (2): belief in the traditional doctrines of a religion b (1): firm belief in something for which there is no proof (2): complete trust

3: something that is believed especially with strong conviction; especially : a system of religious beliefs (the Protestant faith)

Transitive Verb:

archaic : believe, trust
Those in boldface ones come close.
My Faith in Humanity is as simple as my Faith in physics, my Faith in myself, my Faith in you.
I have always held Faith closer than Hope.
Hope has always seemed to me a selfish trickster. I can hope for many things, like a child weeks before a Birthday, hoping for that one toy. I can hope for World Peace with that same childlike selfishness thinking my desire will be enough to produce the results I want.
Children grow up and understand soon enough that many things sought cannot be given without earning them in ways they could not through their former eyes.
There are realities: Ponies can't live in your backyard in the city.
Adults who cling to hope, well, bless their childlike hearts, they will be stuck within the parameters of their world's gifts… left disappointed and bitter when their pony and their messiah doesn't come. Hope is inactive. Hope is doing nothing, just waiting for the payoff that never comes.
Faith, for me is an entirely different animal.
You see, I have had those fleeting moments, not only of complete unity and peace, although I enjoy those results. Those moments are defined by being and acting in a way that is in utter balance.
That kernel of Godhood; that interconnection and loss of self while being utterly self is where my Faith lies.
My proof that it is in You? If someone stumbling along through life like me has found this Godhood time and again since childhood, then certainly you all hold it.
It means we can each, individually act and be in that perfect way. From that place, no harm can be done anyone.
Faith is active, if your Faith is in yourself. Faith is knowing that place exists and the struggle to get back to it, stay there longer each time you do, and ACT accordingly.
Now, Carlos Castenada may well have ripped off a bunch of philosophers, and who knows his motivation; but before the weirdness, he exposed a lot of people to some really good ideas.
We are luminous beings able to connect in many inexplicable ways, and the lines of the world connect us all. It amuses me that 30 years later, string theory and probabilities say much the same thing.
It all ties with the ancient truth: We are all one.
They say a man can move a mountain through Faith alone. But somewhere along the lines religion turned Faith into Hope, and took the power away from us, so that we we became so lazy we won't "lift their fat fucking asses off of their sofas to take a shit or fetch more junk food during the latest episode of American Idol." (thanks that, Ed, heh, sorry.)
Yes, revolution after revolution has come, and the Power structure has changed little. The Now is different.
Can all of you not feel the restlessness?
Never before has it been Global, never before has it been so transparent what is happening; that even the panicky blind must protest too loudly what they know to be true.
I am amazed this thing called the internet still stands relatively unscathed. People all over the world can read each other's thoughts, see the commonality.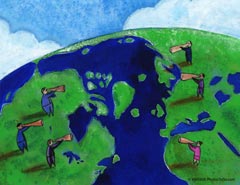 My Faith is that every single person on this Blog sees what is happening, and is an agent of enlightenment every time they stroke a key, from the practical advice of asqv, to my flights of inane philosophical rambling here this early morning.
You have your soul-mates, your work you love, your bastion of security at home. Yet, each and everyone of you must reach out to try and reach that place, not alone anymore but together. You do it here.
There have always been those who cry from the mountaintops, seers and prophets; but never before on this scale.
The Earth is fragile and humanity is so very hungry for its next step. You feel that hunger or you would not be here. We would not be here in numbers, in masses across the blogosphere. In MIND-BOGGLING numbers.
I know that struggle to act in balance lies in me; it must lie in every one of them who involved in the act of writing about it. They have Faith too.
Every day, every action becomes the agent of Real Change, Real Awakening.
I have no idea what part I play. I really have no idea if one word I have ever uttered these last couple years in pixels have changed one person. I do know that I do it anyway. I do know for some reason, I made this place and all of you came.
Thinking about that amazes me. I am no charismatic. I am no scholar. Yet in this time, in this space it is what I am doing, with Intent and Faith.
Connection happens in many ways, and worldwide hits come to this tiny place. Connection happens away from any electronic source, too, in those quiet moments when you can feel the connectedness of Humanity.
If we could not FEEL that, we wouldn't care enough to be here.
We are at a tipping point. Everyone in the world knows that, at some level.
I have Faith in that.
I have Faith in myself.
I have Faith in you.
Thus?
I have Faith in humanity.
I have Faith in Her too. ::grin::