( – promoted by buhdydharma )
cross posted from The Dream Antilles
The Si'an Kaan Bio-reserve is 1.3 million acres of protected land in the State of Quintana Roo, Mexico, about 2 hours south of Cancun, near Tulum. "Sian Ka'an" is translated from Mayan as "where the sky is born" or "gift from the sky". I was there just a few days ago.
Please join me in paradise.
Si'an Kaan is here: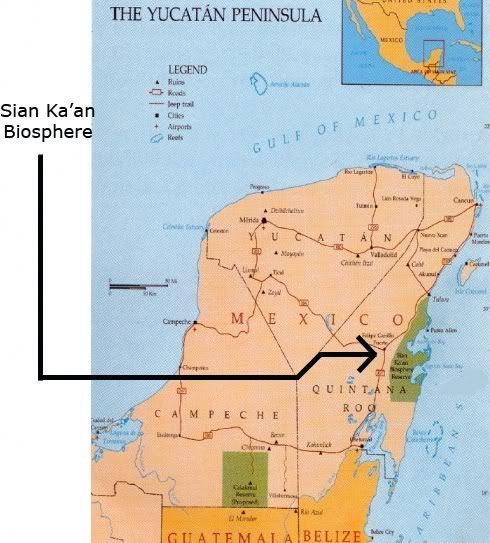 Facts about the Reserve give an idea of how large and important it is to preservation:

* Largest protected area in the Mexican Caribbean (approximately 1.3 million acres)

* Established January 20th 1986 as part of UNESCO's Man and the Biosphere Program

* UNESCO World Heritage Site

* Unique for its geography and wetlands

* 23 known archeological sites (with relics dating up to 2,300 years old)

* 103 known mammal species

* 336 known bird species

* Nesting ground for many species of wading birds

* Annual rainfall between 44 and 48 inches

* Important nesting site for two endangered sea turtle species

* Believed to be inhabited in the Pre-Classic and Classic Periods in the chieftanships of Cohuah and Uaymil

* Currently home to over 2,000 inhabitants
But even more stunning is how very beautiful and how very wild the reserve is. Just look at these photos: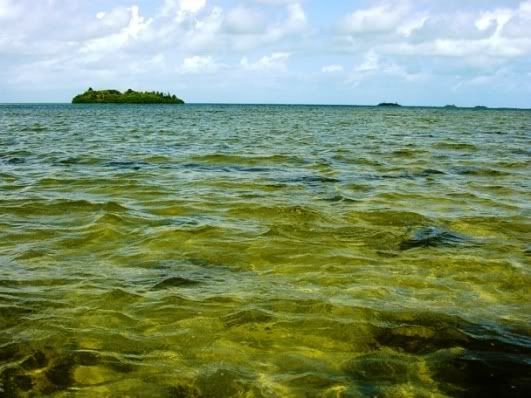 I was at the reserve just a few days ago. I drove from Tulum down the Tulum-Boca Paila Beach Road all the way to Punta Allen, a small lobster and fishing village on a spit of land where the reserve ends and Asuncion Bay begins. Punta Allen is famous for sport fishing for permit, tarpon and bone fish.
All the way down the difficult, bumpy road, there are beautiful white sand, palm tree lined beaches. All the way down the coral reef shelters the land from direct contact with the ocean. All the way down there is spotless turquoise water reflecting a blue sky. The air is filled with birdsong. The water is filled with creatures.
Except one thing. The water isn't really spotless. And that's why I have a tear. I have a tear because there is too much plastic in paradise. And I cannot help but see it.
Some of the beaches that face the wind and the open sea are littered with plastic. All of the usual civilized species are there: blue plastic jugs, old shoes, plastic bags, bottles, packaging, plastic coke bottles, old nylon ropes, auto parts, light bulbs, sunscreen tubes. How so? Because nobody lives on a particular beach, nobody picks up the plastic on that beach. It's unlike the beach near my home, which gets a plastic pick up every Sunday from residents. It's unlike my beach because nobody takes responsibility for removing the plastic, for picking it up, for returning it to the appropriate stream for garbage. My home beach in Bahia Soliman is spotless. And it's spotless solely because my neighbors make sure it stays plastic free. This has been a decade long preoccupation for us.
In the Reserve, I think a windward beach will be pristine. I get out of the car. It is littered with plastic. Not all beaches are littered, but some are. Some are quite littered. Some have debris deposited by Hurricane Wilma and after that Hurricane Dean in addition to the usual plastic debris.
This means, as well, that the sea just off shore is also littered with floating and sinking plastic. This means that endangered sea turtles are imperiled by the plastic. That the birds and fish are imperiled by plastic. That instead of being pure sea water, the ocean is a really a man made plastic gumbo.
This is not real news. We have befouled our ocean. We continue to soil it. We all know that, right?
I'm reminded that when Oscar Wilde saw the convicts at Redding from a train, he was reported to remark, "Well, if that's how the queen treats her convicts, she doesn't deserve to have any." And so with us and our oceans. And our beaches.
I would like to clean the beaches in the paradise of Si'an Kaan, but I don't have the financial resources or the time to do it or a plan or organization to carry it out. Even if I did find a way to clean these beaches, just once, that wouldn't really be enough. There is still tons of plastic in the sea, and every day, every single day that goes by, even more plastic is deposited in the sea. And every day the sea deposits the plastic it is choking on on the beach. Every day the sea says, "This plastic is making me sick. I vomit it on you. You must remove it. You must look at it on this beach until you remove it."
Of course, we don't all see it. Few of us do. Relatively few of us walk on beaches on a regular basis. And even fewer of us have had a chance to pick up plastic on a regular, weekly basis. Maybe if we did that, just maybe, we'd begin thinking about cleaning our ocean and what that would take. And we'd be thinking about how we use plastic.
That's why I urge everyone who walk on a beach to carry a bag and to pick up some plastic and throw it in the garbage. Yes, I know this doesn't really solve anything permanently. It's just a start and a gesture in the right direction.
Until we begin to think about how we use plastic, we don't really deserve paradise as perfect, as abundant, as wild as Sian Ka'an.