( – promoted by buhdydharma )
Something is wrong with me. I am not feeling the whispering winds of engulfing unity.
The rhetoric of change has not hit me yet. Perhaps I doubt it is really coming. See it is nothing personal against the two Dem candidates, they might be fine people. Right now they are in the courting phase and whichever of them wins will continue the courting right up until they win, if they win. But whoever does win won't be calling you in the morning to reminisce about what a good time they had last night. The have advisers and experts, and the advisers and experts like the system. They think it works great primarily because they don't actually know anybody who might possibly be considered an average American or even an American who isn't average, just in the process of getting royally fucked.
What nobody running for office wants these days is this….
They don't even want a peaceful evolution. Whoever becomes the Dem candidate wants just enough change to make it look like they stand for something. The Dem candidate still wants you to be above all a consumer, not a citizen. Once in office, they don't really want your "input" just in case you start asking for uppity things. What happens if you ask for something that isn't for you, that goes against your self interest, something for your kids, or something for something you don't even know? Won't that be complicated.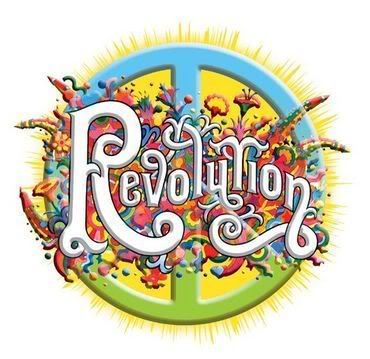 We already know that whoever becomes the Republican candidate wants fascism with a velvet glove and an increased limit on the credit cards. John McCain wants to make sure your kids in kindergarten will have a war to fight in and Mitt Romney wants to force us all to give hand jobs to his corporate friends on a daily basis, as if giving up pensions and decent health care just wasn't enough tribute. The future for your kids with those two is either a uniform or a bar code on their forehead.
I am not even saying we are fucked. I am fundamentally undecided on that issue. Besides, it is arrogant to make proclamations. For all I know, the rapture really will come and sweep up the annoying people, and we might be able to advocate for something grander than change. I do know this: conventional wisdom is not wisdom. Perhaps, the greatest thing ordinary folks like myself can to is to learn how to think, and in everyday conversations, to encourage those I come in contact with to ask questions. The problem with Americans is that nobody really urges them to ask questions probably because elites are afraid that the biggest problem is that Americans are not stupid. They aren't afraid of an undifferentiated mob, they are afraid of a thoughtful one. And thoughtful mobs are not necessarily all interested in unity either.
Unity these days is being linked in popular mainstream dialog with silly notions about a post partisan landscape in which our differences are no big deal.
I don't want unity myself. I want to argue. Sometimes I wonder if progressives, out of the boxers, and independent thinkers are all concerned they might not like one another or agree on everything and that might prevent the creation of a coherent vision. I am not sure there is a coherent vision. And we all have issues on a personal level, we just cannot compromise on. Even if we did all belong to an easily defined movement, there is nothing wrong with realizing one has to take a holiday to go work on projects that might not be getting the priority we think it should. Sounds contradictory doesn't it? Because change is contradictory, ideas spawn ideas that seem impossible. We think we know what change we want only because we can clearly see what we don't like. Maybe we don't know yet.
I am more interested in democracy and what it might end up meaning than a candidate and I don't see those who have strong feelings about one or the other as being partisan, we don't even truly know what being partisan in the electoral process means any more because the choices are too narrow. They aren't choices.
By the way, the lobotomy feels just fine. An easy post op recovery.