It is the heart of any call for investigations or impeachment. It is intended to bring the ire of every person reading to the forefront and spur them to action. It is intended to refresh the memory and to sharpen the focus. It is intended to never let the crimes die…or the criminals rest…
It is The List.
Impeachment/Investigation essays are emotional to some people, they react to the meme or the 'current political reality' and not to the larger reality of what has occurred over the last seven years. The List is a reminder to FUCK the current political reality and push for justice and principle.
Many people have made many lists, as I say it is at the heart of advocating for justice for Bushco. So instead of using time to come up with a new list for every essay, I would like to see us compile a nifty Cut N' Paste Bushco Scandal List. The top ten(?) scandals should do it, perhaps with a short blurb…and definitely with a link to a story from a major news outlet about that scandal. And of course we want the most devastating link possible and the most damaging blurb possible.
At what amounts to the eleventh hour politically, it seems that impeachment is gaining some traction. Certainly the recent torture revelations are a pretty darn clear path to impeachment, but there are so many others! So if you are into it, pitch in!
Here is a good reminder and primer for your thoughts…Scandalist™ by rickpickett
Take your time, dig in, and let's see what we can come up with! We can post it on the Dharmapedia for easy access and whenever you go to write about demanding FULL INVESTIGATIONS NOW!!! or IMPEACH!!! You can just C&P in to your essay with no muss and no fuss!
Bonus Fun!!! Post all your best impeach graphics and links! Let's make this thread an Impeach resource center. I will tag it Impeach List, so we can all access it that way in the future as well as through the Dharmapedia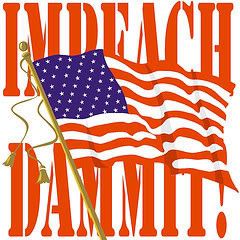 by angryird