(10 pm – promoted by ek hornbeck)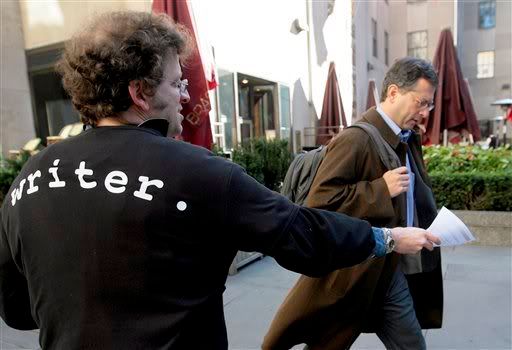 Today, AMTP broke off negotiations with the Writers Guild (WGA). This is not a good development and may prolong the strike.
What, if anything, can we do to support the WGA strikers and to be in solidarity with the WGA?
Join me on the right side of this picket line.
I have suggested that all of us who are writers and bloggers post the following badge on our blogs.

I notice that this badge is NOT yet on docudharma. Post the f*cking badge, Buhdy! Also, I notice that it's not on dKos. And it's not on most of sites in left blogistan. C'mon folks I know you know how to do this!
* Maybe we should write on our blogs and LTEs in support of the WGA and against the obvious greed grab of writer funds the AMTA has in mind.
* Maybe we should write scathing reviews of re-runs of TV shows and shows that suck because they have no writers making new material.
* Maybe we should be sending nasty grams to AMTA.
Beyond that, I don't know what else to suggest that will support the WGA and end the strike on terms favorable to our fellow writers.
That's where you, dear dharma blogueros, come in.
Please put your suggestions about how we can support the strike in the comments, and then let's follow up by actually doing those things. Let's get this strike done, and let's have a writers' victory!