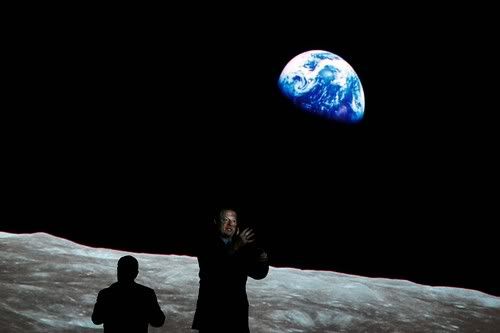 Man on the Moon.
The picture reminded of a song by R.E.M.
If you believed
they put a man on the moon,
man on the moon.
If you believe
there's nothing up my sleeve,
then nothing is cool.
About the photo – "Global Gore – Al Gore discusses climate change during a conference Tuesday in Barcelona, Spain. (AP photo by Manu Fernandez / October 23, 2007)"
According to Typically Spanish's Spain Papers Review "Al Gore, speaking in Palma yesterday, attacked the idealists from the right wing for their refusal to accept the problem. El País notes too that the King has also warned about the risk."
More on upcoming events with Al Gore in Barcelona. Decanter, a wine website, reports Al Gore to speak on climate change and wine. "Former US Vice President Al Gore will be the keynote speaker at a 2008 conference devoted to climate change and its impact on wine. The International Climate Change and Wine conference, the second to be organised by the Wine Academy of Spain, will take place in Barcelona in February 2008."
Al Gore seems quite busy next year… not running for president.
But then, I hope Mr. Gore has something up his sleeve.