I wake up in the mornings now and realize that two of the most powerful political figures in my life share my gender. Something I've waited a long time to witness. Let's make one thing perfectly clear though; women are not the kinder gentler sex! We have not cornered the market on combining common sense with integrity, and we do not overflow with loving kindness, and decency is an exercise at times. We probably won't save the world without help.
My daughter was seven days old the day her biological father gave her a few subtle shakes when he was angry with me. Something ugly woke up inside of me instantly. I've never experienced anything like it since. I was going to kill him. My mind planned it out so fast I couldn't believe how the lizard brain works, I never fed it and it knew stuff I never imagined that it could know. It knew that if I snatched the glasses off of his face and wadded them up in a ball he wasn't going to be able to see me very well for what I was going to do next. He would have a harder time defending himself.
I had been told my whole life that women were gentle and kind and loving and not capable of atrocity……what a load of B.S. that turned out to be and nobody did me any favors that day by telling me such baloney as I grew to womanhood. I ended up almost scaring my own self to death experiencing all of me one day. Thankfully though I chose a different course and baby and I left him instead of causing him to leave this plane for fucking ever more (see, the lizard still remembers. The lizard will never forget that day and I talk to the lizard about that whole deal a lot but the lizard will always be the lizard).
Women can be just as ruthless as men and I don't want any of us getting confused anymore where gender and ruthlessness are concerned, but we probably still will.
Hillary's documented stance on the Iraq War
"We cannot let Al Qaeda have a staging ground in Iraq."
"We have made common cause with some of the Iraqis themselves in Anbar province."
"We also have to look at the way the Kurds are being treated."
"We also have to pay attention to Iranian influence."
"We will have to protect our interests. We'll have an embassy there."
"If the Iraqi government does get its act together, we may have a continuing training mission."

Here are a couple more reasons cited by Clinton for a continuing deployment of American troops to prevent Iraq degenerating into a failed state "that serves as a petri dish for insurgents and Al Qaeda." They come from an interview she gave to the New York Times back in March.

Iraq "is right in the heart of the oil region."
Leaving Iraq altogether would be "directly in opposition to our interests…to Israel's interests."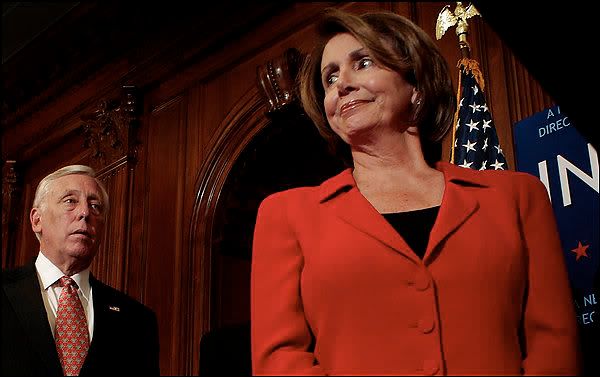 Nancy's leading with decency and integrity runneth over…..
"Look," she said, the chicken breast on her plate untouched. "I had, for five months, people sitting outside my home, going into my garden in San Francisco, angering neighbors, hanging their clothes from trees, building all kinds of things — Buddhas? I don't know what they were — couches, sofas, chairs, permanent living facilities on my front sidewalk."

Unsmilingly, she continued: "If they were poor and they were sleeping on my sidewalk, they would be arrested for loitering, but because they have 'Impeach Bush' across their chest, it's the First Amendment."
"We have to make responsible decisions in the Congress that are not driven by the dissatisfaction of anybody who wants the war to end tomorrow," Pelosi told the gathering at the Sofitel, arranged by the Christian Science Monitor. Though crediting activists for their "passion," Pelosi called it "a waste of time" for them to target Democrats. "They are advocates," she said. "We are leaders."

It was a rather fierce response to the party's liberal base, which frightens many a congressional Democrat. But it wasn't out of character for the new speaker. Pelosi's fixed and constant smile makes her appear as if she is cutting an ad for a whitening toothpaste. But when you listen to the words that come from her grinning maw, the smile seems more akin to that of a barracuda.