Today is United Nations Day, or the anniversary of the signing of the UN Charter in 1945.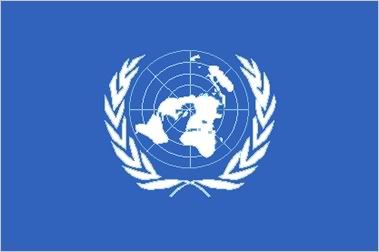 It's hard to remember now, in the ethos of the so-called post 9/11 world, but the U.N. did have significance once upon a time. And perhaps, in a post-Bush world, it will have signifcance again.
Sometimes with the higher profile cases of war, where the U.N. has been paralyzed by one of the "Big 5" (United States, Russia, France, China and the U.K.) to intercede, it's easy to write off the U.N. as ineffective, worthless, and the like. Certainly, that's exactly what right-wingers want us to do…a waste of time and money, they say.
But let's remember what the U.N. has accomplished.
Perhaps the greatest testement to the U.N.'s sucesses is the Trusteeship Council. The Council was tasked with providing for independence and the transition to independent forms of government for nation-states that were former colonies of Western powers. In 1994, the Trusteeship Council disbanded, because it had wholly done its job, providing for independence for all territories the U.N. held in trust.
But more than that, here's a more complete list of the accomplishments of the U.N. in it's brief 60 year history:
* Over 35 peacekeeping missions (16 active) worldwide.
* Negotiated over 172 peaceful settlements to conflicts.
* The Universal Declaration of Human Rights
* United Nations Framework Convention on Climate Change (i.e. the Kyoto Protocol)
* $800 million a year spent worldwide via UNICEF on immunization, nutrition, health care for children
* Brokered over 300 treaties on everything from human rights to the use of outer space
* UN High Commissioner on Refugees assists nearly 20 million refugees a year
That's just for starters. In the 62 years since its inception, the U.N., U.N. agencies, and U.N Secretary Generals have won a cumulative total of eight Nobel Peace Prizes:

1954: UN High Commissioner on Refugees

1961: Dag Hjalmar Agne Carl Hammarskjöld

1965: United Nations Children's Fund

1969: International Labour Organization

1981: UN High Commissioner on Refugees

1988: UN Peacekeeping Forces

2001: United Nations and Kofi Annan

2005: International Atomic Energy Agency and Mohammed ElBaradei

In 60 years, the U.N. has developed an astounding legacy already. Unfortunately, the United States rarely recognizes that legacy, or the UN's purpose, unless it serves our own. Hopefully that will change in the next sixty years of the organization's history.
As former UN Secretary General Dag Hammarskjöld once said:
"The UN was not created to take humanity to heaven but to save it from hell."

Indeed. As bad things are, imagine the last 60 years without the United Nations. What type of world would it be? Would there be a world at all?
Something to consider on this UN Day.
You can read these words and reflect on a time when the world had hope that it could save it from itself.