I wrote this whilst nursing my youngest about a year ago.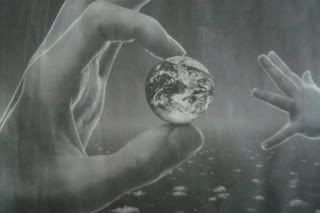 We sit here, we two in our big comfy chair
I am here with you but my mind can't help but wander
Images and imagined noises filling my head my eyes close with yours
What it must be like to try and nurse a baby with bombs going off nearby
Threat of an armed stranger exploding through the door at any given moment
Not knowing where the next meal will come from, will we have to leave this place?
Oh Hannah, my sweet little rose, with your face nestled into my breast asleep
This motionless moment frozen in time, etched in my memory, why did you come?
I will make a promise to you, I will teach you what you need to survive here.
You will need to be a warrior, not for war, in spirit, in strength, in resolve. In character.
What I don't know, we will learn together, what I don't know you may teach me
I will make a promise to you,
I will do all I can to stop the madness, to find a better, more peaceful way
If I can't stop it, I am sorry
I will do all I can imagine.
To you, this I promise.
So here I am. As promised. An uneducated schmoe, out in the sticks. Blogging.
Why do you blog? What brought you here?
Thanks Pfiore, you inspire me!