This wrinkle in time, I cant give it no credit
I thought about my space and I really got me down
(got me down)
(excerpted lyrics from Headache – Frank Black)

Madeleine L'Engle would have loved the fact that she died at 88, I think. 88 is an abundant number, and the prime factors are 2x2x2x11.
L'Engle's Newberry Award-winning A Wrinkle in Time was published in 1962, and this is the 44th year anniversary of her most acclaimed book. 44 is an octahedral number, the factors of which are 2x2x11.
There is a curious, connective symmetry between these numbers and her book. An octahedron shares many of the same qualities as a tesseract, L'Engle's favored transport device in Time.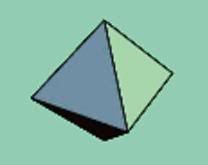 The tesseract is an octachoron, which, for her purposes, is a "four-dimensional analog of the (three-dimensional) cube" – or rather, a cube with a fourth dimension that allows or illustrates the movement of the cube through time.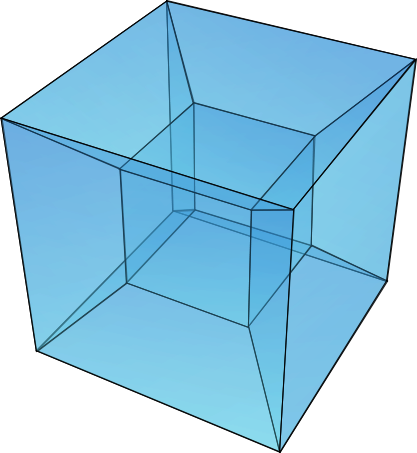 I was counting the rings
And I fell me into sleep
I peeked to see if you were way back when
44, 88. A world populated with primes, abundance, polyhedrons, villains, and children moving through time by virtue of a cube with a fourth dimension.
L'Engle was rejected some 26 times prior to finally publishing A Wrinkle in Time in 1962. According to the Washington Post, she signed away all rights to the book to Farrar, Straus and Giroux, with a special caveat in her contract stating that they "could have the [rights] to the book forever, anywhere in the universe, except the Andromeda galaxy."
A Wrinkle in Time traverses several themes: morality, tolerance, perseverance, loneliness, triumph, abandonment. The female hero Meg Murry was quite the novelty for a fantasy young adult or children's book written in the late fifties, early sixties. There were few female champions for young readers.
Well, I found you
Maybe you can help me
And I can help you
Many readers and critics see overtones of Christianity in L' Engle's books, and such themes are definitely extant in A Wrinkle in Time. But I think she was more concerned with the loss of the individual, and then subsequently the soul.
The plot of A Wrinkle in Time is acutely familiar in our world where the overseer is the Department of Homeland Security; L'Engle conjures a shadowy, dark and omniscient presence, a big telepathic brain, who controls a world in which safety is promised and freedom, personality and the individual are distilled away from the collective.
Mrs. Whatsit, one of the oracle-like characters in the tale, sets us straight on the responsibility that comes with freedom…
Calvin: You mean you're comparing our lives to a sonnet? A strict form, but freedom within it?

Mrs. Whatsit: Yes. You're given the form, but you have to write the sonnet yourself. What you say is completely up to you.
"Truth is eternal. Knowledge is changeable. It is disastrous to confuse them."

Madeleine L'Engle
1918-2007
Rest in peace, Madeleine. I hope you've found your tesseract.
This wrinkle in time, I cant give it no credit
I thought about my space and I really got me down
(got me down)
Got me so down, I got me a headache
My heart is crammed in my cranium and it still knows how to pound

***********************************