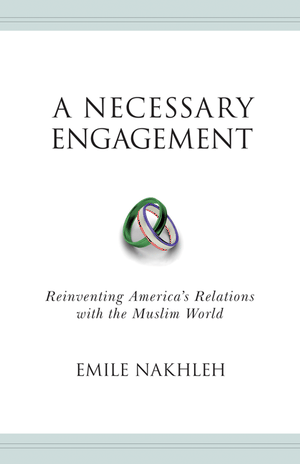 The topic below was originally posted on my blog, the Intrepid Liberal Journal.
Building consensus within America's body politic and national security establishment for a new way forward with Muslims worldwide is a formidable challenge. Many Americans still don't appreciate the complex nuances of Muslim society and remain stubbornly Islamophobic almost seven and half years after 9/11. Equally formidable is earning the goodwill of Muslims worldwide following the Iraq War as well as American atrocities perpetrated upon Islamic detainees at Guantanamo Bay and Abu Ghraib. Hopefully, President Obama's historic election has finally opened a path for constructive conversation about how America can most effectively engage the Muslim world.
The CIA's former point man on Islam, Emile Nakahleh, has vigorously entered this conversation with his new book, A Necessary Engagement: Reinventing America's Relations With the Muslim World (Princeton University Press). From 1991 to 2006, Nakahleh served as the director of the Political Islam Strategic Analysis Program in the Directorate of Intelligence at the CIA. He holds a PhD in international relations and is a member of the Council on Foreign Relations.