cross-posted from The Dream Antilles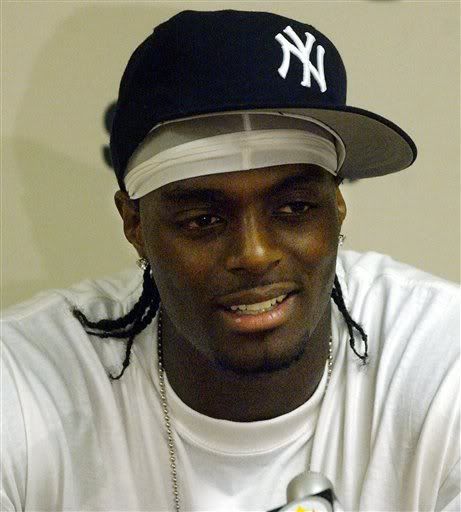 Plexico Burress, Shakespearean Tragic Hero



OMFG. New York Football Giants star receiver Plexico Burress last night shot himself in the thigh with a handgun. Will he play again this year? Who knows? He was released from the hospital today. There are other questions though. Like: WTF is he doing with a loaded pistol in a night club during the season? And htf did he shoot himself in the thigh? Isn't that like totally embarrassing? And is this the stupidest economic "accident" we've seen this year, a year of gigantic, incredibly stupid economic "accidents?"
So those of us in the "life as figure of speech" department were thinking about Plexico Burress this afternoon. And we were thinking hard.
The big question for us is whether he's a metaphor for the United States's economy? Or the war effort in Iraq? Or the Bush Administration? Or the War on TerrorTM? Or something else that's a gigantic f*ck up?
What kind of figure of speech is he anyway? Is this an example of synecdoche? Is this an example of metonymy? Is it metaphor? WTF is this anyway? And, more important, what does it mean, if anything, to us?
The New York Times supplies the back story:

It was unclear what led to the gun's discharge. There were no reports of any fights inside the club before the shooting. The police did not say whether any charges would be filed, but they noted that felony charges were possible if a person possesses a loaded, unlicensed handgun in a place other than his residence or business.

Under the league's personal-conduct policy, violations of local gun laws can result in a player's suspension…snip

It is the latest controversy involving Burress, who signed a five-year, $35 million contract with the Giants just before the season opener. He was suspended for 12 days, including a victory over Seattle, because he missed meetings without explanation.

Against San Francisco on Oct. 19, Burress shouted at Coach Tom Coughlin on the sideline after drawing an unsportsmanlike-conduct penalty. The N.F.L. fined Burress $45,000 for verbally abusing the officials.

Coughlin held him out of the first quarter of the Oct. 26 game against the Steelers because he missed treatment on a neck and shoulder injury the day before.
The Times also reports that Burress, who is 31, has a 5-year $35 million contract.
I know that you, dear readers, are incredibly busy and perplexed by other, vital questions, but seriously now, have you ever heard of anything as ridiculous and expensive as this?
Then again, oops. I guess so. How about Michael Vick?
Oh, goddess supreme, preserve us in safety from the end of this Empire.