From Burning the Midnight Oil for a Green Keynesian Revolution (Midnight Thought First Draft posted on Agent Orange)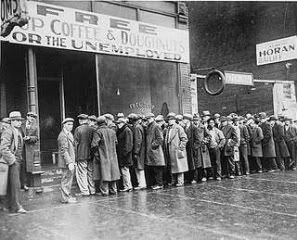 The thing about the New Deal … it provided a lot of "relief"(1) to a lot of people in desperate shape. But what cured the Great Depression was not the shock absorber of job guarantee programs like the two public works administrations and the Civilian Conservation Corps.
What cured the Great Depression was the massive Keynesian stimulus of World War II. Even before the US got into the war, armaments industries ramped up production in response to domestic re-armament and orders from overseas … including the gimmick of Lend-Lease to make sure that the UK had the money to buy the product of US arms factories.
We can do the exact same thing with the economic disruption that is coming, and if we learn the lessons of the Great Depression, we can do it again … with something far more useful than fighting another World War.