cross posted from The Dream Antilles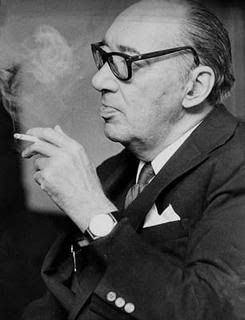 Juan Carlos Onetti (1909-1994)
A continuation of an idea. Remember my essay that mentioned the Uruguayan writer Juan Carlos Onetti? I thought not. It's OK. It was about what happened to various writers when their countries decided that what they wrote was unacceptable. The piece was an inquiry about whether that kind of police state might be growing in the US.
Here's an excerpt:
[Onetti] went on to become one of Latin America's most distinguished writers, earning Uruguay's National Prize in literature in 1962. In 1974, he and some of his colleagues were imprisoned by the military dictatorship. Their crime: as members of the jury, they had chosen Nelson Marra's short story El guardaespaldas (i.e. "The bodyguard") as the winner of Marcha's annual literary contest. Due to a series of misunderstandings (and the need to fill some space in the following day's edition), El guardaespaldas was published in Marcha, although it had been widely agreed among them that they shouldn't and wouldn't do so, knowing this would be the perfect excuse for the military to intervene Marcha, considering the subject of the story (the interior monologue of a top-rank military officer who recounts his murders and atrocious behavior, much as it was happening with the functioning regime).

Onetti left his native country (and his much-loved city of Montevideo) after being imprisoned for 6 months in Colonia Etchepare, a mental institution. A long list of world-famous writers-including Gabriel García Márquez, Mario Vargas Llosa and Mario Benedetti-signed open letters addressed to the military government of Uruguay, which was unaware of the talented (and completely harmless) writer it had imprisoned and humiliated.

As soon as he was released, Onetti fled to Spain with his wife, violin player Dorotea Mühr.
Join me in Spain.