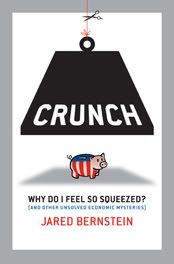 The topic below was originally posted on my blog, the Intrepid Liberal Journal on April 6th and x-posted today at The Wild, Wild Left, The Peace Tree,The Independent Bloggers Alliance and Worldwide Sawdust.
How many economists have you read or watched on television in recent years that claimed the economy was performing well while you struggled to make ends meat and keep up with the cost of living? Indeed, until recently a happy talk virus had infected a cabal of conservative plutocrats who preached the virtues of limited regulation, market forces and free trade as wages declined and predatory lenders had a party. It seemed we were hearing conservative politicians and their mouthpieces at the Heritage Foundation or Fox news refer to the economy as "the greatest story never told" at every opportunity.
Now that the housing and credit crisis has metastasized, conservative apparatchiks are fighting to minimize government intervention on behalf of regular folks while preserving corporate welfare. They accuse anyone who raises a fuss of waging class warfare. Instead these agents of the status quo prefer we erroneously obsess about Social Security going bust and agree to privatize it for Wall Street's benefit.