cross posted from The Dream Antilles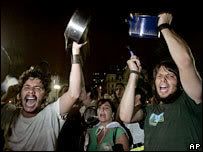 Argentinian Farmers Protest
Argentinian farmers, whose strike for more than two weeks has crippled the country, have agreed temporarily to break off their strike, to negotiate with the government. Details via the BBC:
Farmers in Argentina have suspended a crippling strike called in protest at rises in export taxes on farm products.

A farmers' spokesman said the 16-day protest – which included roadblocks and caused food shortages – had been halted to allow talks with the government.

Argentine President Cristina Fernandez de Kirchner had refused to negotiate with the until the action was stopped.

She says the taxes will redistribute wealth, but farmers say they and their communities will be hit hard.
Does any of this matter to the US, and if it does, where is the reportage about this strike in the traditional media?
Join me in BA.