Blogging is conducted through cyberspace here in the 21st Century, we type on keyboards, we read each other's words on computer screens. The technology enabling us to engage in this form of communication is new, but what we're doing when we blog isn't new, it's as old as civilization–we're talking to one another just as people did thousands of years ago, we're sharing our thoughts, communicating about what matters, reaching for the kind of future we hope to see. We don't want history to keep repeating itself, there's been too much war, too much killing, too much misery.
As global war and genocide took the lives of 50 million people only three generations ago, a young girl expressed her hopes for the future in a diary. Anne Frank didn't know her words would be ultimately be read by millions of people, but they have been and will be for as long as human civilization exists. The most brutal and inhuman regime ever to darken the pages of history killed her in Bergen-Belsen, but it could not silence her.
What was Anne Frank doing?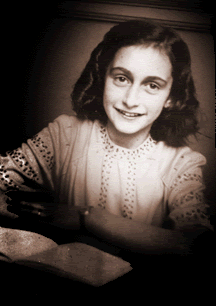 She was blogging the future.