Two more different places do not come to mind, yet what we have been witnessing are two instances of the national question which have been in the news recently. I was originally going to write only on Scotland, but the immediacy of the catastrophe that is happening to the Kurds in Syria and the fight being waged against great odds while the world watches (and literally the Turkish army sits in its tanks watching while prevented Turkish Kurds from joining the fight in support of those fighting in Kobaně) needs to be addressed. So I decided to discuss both issues and to ask where the left stands and where it should stand on what should have been termed historically the national question and what criteria we should use to ascertain whether there is a legitimate issue that should be supported.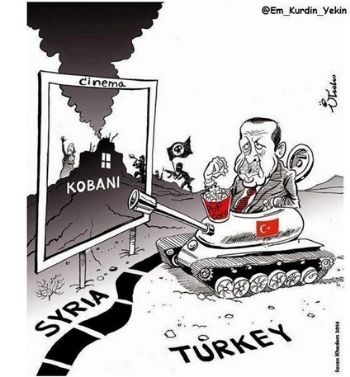 As we watch the power of states in the advanced capitalist world be weakened through the internationalisation of capital beyond national borders, one would think that the national question (a question arising at the end of the 19th century with the consolidation of nation states like Germany and Italy in the 1870s in the context of the consolidation of bourgeois nationalism and then the creation in the early 20th century of new nation states following the collapse of the Hapsburg and Ottoman Empires, e.g., Hungary, Greece, Czechoslovakia) would have ceased to be a relevant consideration. However, even as we sit here and watch the control over "domestic" capital weaken in state by state (this can be easily seen in the inability to control taxation of profits of MNCs), the issue of the national question still raises its head. This is not only the situation in the post-world war II period of anti-colonialist struggles (e.g., India, Algeria, Mozambique, Zimbabwe), nor the struggle against neo-colonialism and imperialism's attempts to control the economic and political situations in other countries, but also includes the issue of the rights of nations currently in union, through historical circumstance, or forced through being conquered historically to be part of a state (e.g., The Basque, Catalonia, Scotland, Wales).
Since both questions impact significantly on the issue of anti-imperialist in theory and practice, they bring to the fore issues that the Left needs to address. Inevitably, there will be differences among the Left due to different perspectives on the both the acceptance of the right of self-determination, the issue of nation-state themselves, and how this impacts upon anti-imperialist struggles.