Fear not, wanderers in this WTF Wilderness. Be not dismayed, let not your hearts be troubled. Lift up your eyes like you never have before, and behold the shiny objects flashing around the White House and the DNC. Look upon them in wonder and sing hallelujah, for salvation is at hand. Again.
I hope Obama and the clap louder crowd at Kos Communications will forgive me, but I'm not fired up. I'm not ready to go. The idiocy on full display every hour of every day on the campaign trail exposes how far gone this country's political system is. We don't see any real political debate, we don't hear any real political commentary, there's no dialogue about the fundamental problems we're facing, no real solutions are offered. It's not a campaign. It's a beer commercial.
Tastes Great! Less Filling!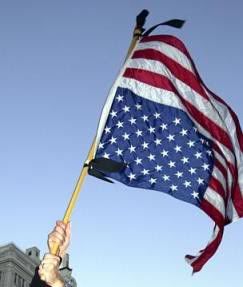 Corporate capitalism tastes great. No, it's less filling. Gosh, I just can't decide who's right, it has so many appealing features. It's not perfect yet, but perfection is so close the Beltway binge-drinkers can almost taste it.
Their friends at the five-hundred billion dollar Beltway Brewery are really cranking out the suds, the bipartisan beer trucks are rumbling down the highways of America, driven by austerity alcoholics with places to go and people to see.
It's Happy Hour, it's always Happy Hour here at the Trickle Down Tavern, so drink up everyone, order another round, put another trillion dollars in the jukebox. Yeah, I know, Too Big To Fail is the only song on it, but what the hell, get over it, quit pouting and grow up, be a patriotic patriot and praise the plutocrats, they created this paradise of prosperity and are disappointed because we haven't been grateful enough, so grab a beer-soaked flag and wave it on high.