Cross Posted from The Stars Hollow Gazette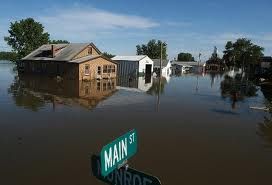 Severe storms have swept across the Midwest and Southern United States that have killed over 300 people as massive tornadoes swept through the region. It isn't just tornadoes that are causing the devastation but the heavy rains have caused flooding that is wiping out entire towns as levees along the Mississippi and Missouri Rivers fail.
Mississippi River Floods 2011: Deep South Braces For Surge Of Water Not Seen Since 1927
NEW ORLEANS — A surge of water not seen since the Great Mississippi Flood of 1927 is forecast in coming days to test the enormous levees lining the Mississippi River on its course through the Deep South, adding another element of danger to a region already raked by deadly tornadoes and thunderstorms.

Mississippi's and Louisiana's governors issued flood warnings Thursday and declared states of emergency. Authorities along the swollen waterway in both states are warning nearby residents to brace for the possibility of any flooding. River boat casinos in Mississippi are closing and levee managers are readying sand bags and supplies – and the manpower to build the defenses – to fight the rising river along hundreds of levees in both states where the river crosses en route to the Gulf of Mexico.