First we had the leftover Bush era reefer madness drug policy :
Holder's DOJ Setting Record Marijuana Busts

https://www.docudharma.com/diar…

FBI stats say 858,408 people were arrested for marijuana in 2009, under US Atty General Holder's DOJ, the 2nd highest total ever, and it was an increase of + 1.3% from under the Bush administration's last year in office, 2008. (the record was 872,721 in 2007)

per this FBI sourced chart here, http://www.fbi.gov/ucr/cius200… 251,740 Californians were arrested last year for drug offenses, if 52% of them were for marijuana, that would be 130,940 citizens of California busted for pot, the equivalent of 2 large sport stadiums filled with people, or about the population of the cities of Elk Grove or Thousand Oaks. If 88% of those people were charged with possession only, that's still about

– 115, 196 Californians getting arrested in 2009 just for possessing marijuana
Then we had CA vs. the Feds and DiFi & Baca :
Prop 19: AG Holder Issues Shocking Threat Against State's Rights To Legalize MJ

https://www.docudharma.com/diar…
If Proposition 19, the Decriminalize and Tax initiative had passed, Attorney General Eric Holder said he'd keep prosecuting them anyway, per a letter written to ex DEA (and now private Homeland Security contractors) agents who petitioned him to keep prosecuting legal marijuana users and growers.
Opposition to Prop 19 was funded by Indian Casino gambling such as the San Manuel Band of Mission Indians, the beer and wine industry, including both large ones like EJ Gallo and Anheiser Busch and smaller artisan breweries in the state of CA, Big Oil companies like Chevron, Big Tobacco such as Phillip Morris, and even most of the major pharmaceutical manufacturers of mood altering drugs like Pfizer, Glaxosmithkline, Eli Lilly, and even Perdu Pharma, the makers of Oxycontin. CALBUSPAC, one of the multi donor PACs against prop 19, lists many of them thru one of the pharma pac subdonors. http://cal-access.ss.ca.gov/Ca…
_______________________________
Now we have the leftover Bush Era DEA Appointee looking for an Obama administration upgrade. An appointee already so lousy, Republican President George W Bush first tried foisting her off on the taxpayer in 2003. Then in April 2008, the Bush White House said it wanted to promote her to replace Karen P Tandy, who had resigned in 2007. The Senate was not enthused. Again. Now, 7 years later, like fungus, "Democratic" President Barack Obama is proposing Dubya's leftover appointee, Michele Leonhart, be promoted from Deputy Administrator to head the Drug Enforcement Administration.
Michele Leonhart, under Bush's era, was the Special Agent in Charge for the DEA in Los Angeles, and the ranking agent in charge for many, many Bush era raids on legitimate medical marijuana, which has been legal now in CA for 14 years. Then she started doing them for the Obama administration. And she must be very good at it. The Senate is supposed to have hearings on this Wednesday (tomorrow). Are you excited yet ? Yes We Can Waste Money We Don't Have On Going After Stoners Because We Have Nothing Else to Do !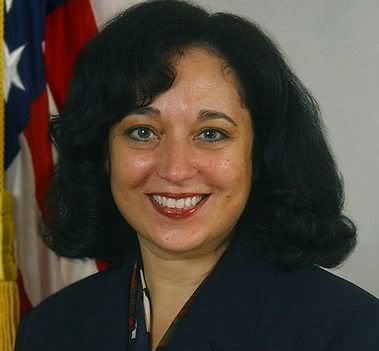 This is a Bush era appointee, Michelle Leonhart, who makes a living raiding from CA Medical Marijuana Dispensaries. Now President Obama wants to promote her to head his DEA. Attention younger voters who are going to be watching the 2012 nominees – is this the sort of thing that appeals to you as a constituent ?