You are so going to love this. Another in the series, Macondo, Oil Well of Doom.
I have wrestled an image from the balko puter onto photomucket. Look what I found on the BP webcams this evening.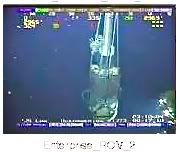 What the bleep is this on Rov Enterprise 2 cam Tues evening Aug 17th ?
Check the official BP twitter feed. http://twitter.com/BP_America
As part of a #BP tourism grant, Gulf resort giving free night's stay and $250 gift card: http://bit.ly/bV9XKC

about 4 hours ago via HootSuite

Retweeted by 5 people

BP_America
That's not a Motel 6. WTF.