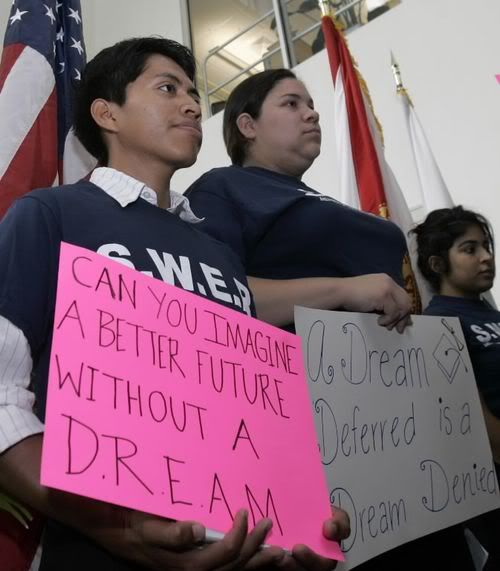 From ABC News:
Mohammad Abdollahi, an undocumented Iranian immigrant, takes the finger-pointing in Congress over stalled immigration legislation personally.

The gay Ann Arbor, Michigan, resident, who was brought to the United States illegally when he was 3, now faces deportation to a country he has never known and where homosexuality is a capital crime.

Abdollahi, 24, and two other illegal immigrant students dressed in blue graduation caps and gowns Monday staged a sit-in at the Tucson, Ariz., offices of Sen. John McCain, who has withheld support for legislation that would give conditional path to citizenship for Adbollahi and thousands of immigrants brought here illegally at a young age.

These young people have been living, as they say, "in the shadows" for years, some for more than a decade. In the absence of any real comprehensive immigration reform, they are taking matters into their own hands and agitating for justice now. They are tired of hearing our representatives talk a sympathetic game and then do nothing. They are demanding both Republican and Democratic representatives do something.
These students, Mohammad Abdollahi, Lizabeth Mateo, and Yahaira Carrillo, were eventually arrested and transferred to the custody of Immigration and Customs Enforcement (ICE), where they will await deportation, unless someone does something.