Forty years ago today, 100,000 angry people descended on Washington for a mass march to end the war.
Preceding years had seen larger marches, to be sure, pushing toward a million strong on occasion, like April 1967 in NYC. But this one had been called only a week before, in response to the Cambodia invasion. Normally these exercises took months and months to pull together-getting the permits, choosing the slogans, printing the literature, spreading the word, renting the buses, mobilizing local groups to take part. And let's not forget fighting over who should speak on the program.
I didn't go to DC that Saturday. The NYU Uptown SDS chapter didn't go, Nobody I was in touch with from the Washington Square Campus did either, if I recall correctly. Relatively few of the revolutionaries and other activists at the core of the campus upsurge on the East Coast did.
Partly, we had simply tired of Peace Crawls, as we had uncharitably taken to calling them. Starting in 1965, there had been two Big Marches a year, one in the spring and one in the fall, usually in either DC or NYC (and simultaneously in the Bay Area or L.A. or both). Sometimes, as with the March on the Pentagon, they marked a big step forward for the movement, usually because they took some unexpected action. More often they demonstrated that an awful lot of people wanted the war over with, most ricky-tick, and served as a reminder that it didn't seem to be happening.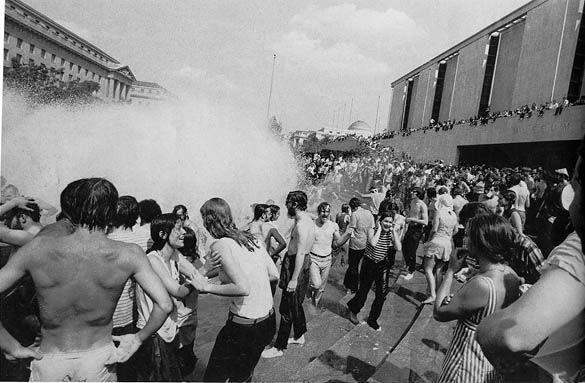 >