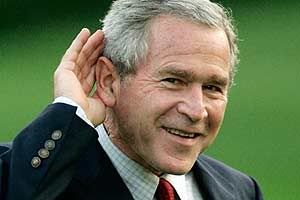 Most folks when asked to define the Bush Doctrine, other than stealing elections, would point to a document called the National Security Strategy of the United States published in September 2002, which states among other things:
To forestall or prevent such hostile acts by our adversaries, the United States will, if necessary, act preemptively in exercising our inherent right of self-defense.
Preemptive war. The idea if the United States perceives a threat outside of our borders, even a 1% chance of danger against American interests, then the U.S. has the right to "defend" itself preemptively.
But I would argue historians will define the Bush Doctrine as something else. Something much more dangerous, reckless and un-American. The Unitary Executive.