Crossposted at DKos
A troll on DK beat this diary up pretty bad and killed the thread. If anybody can give me a rescue it would be greatly appreciated.
Please, rec this diary up on DK if you can, so that others may see it as well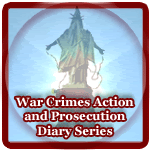 If you don't support warrantless wiretapping, The Patriot Act, torture or any of the other high crimes and War crimes committed by the Criminal Bush Junta you might be interested in H.Res 383.
H.Res 383 was introduced by Rep. Barbara Lee (D-CA9) and is designed to act as a Congressional oversight bill that would establish a select committee to review national security laws, policies, and practices. Better yet, this committee would have power of subpoena.


If the House Leadership pushes this bill and the House Rules committee allows for open hearings and gives this bill a closed rule barring amendments, we could well be on our way to full investigations of Bush/Cheney and their policies crimes.